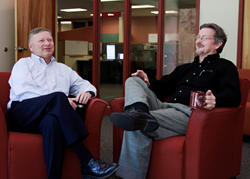 There is no one more suited to inherit this role. Rich embodies the brand with his insatiable curiosity, pursuit of excellence and drive to continually improve.
Madison, Wisconsin (PRWEB) May 27, 2015
bb7, a comprehensive product development firm announced today the appointment of Rich Morris as President effective May 21, 2015. Mr. Morris brings over three decades of relevant industry experience to his new role having previously served as Vice President of Operations for bb7. He succeeds Jim Frater, bb7's founder and President since 1992. Frater will transition to a new advisory role on the Board of Directors and will continue to support projects.
"I trust Rich to continue leading bb7 through challenges and growth. There is no one more suited to inherit this role. Rich embodies the brand with his insatiable curiosity, pursuit of excellence and drive to continually improve," said Jim Frater. "I am confident Rich will build on the company's momentum; we recently completed our most profitable year which he helped make possible."
Rich Morris's extensive background with bb7 and within the product development industry poises him for success in this new role. He is an expert Systems Engineer with more than 30 years of diverse experience in medical product development, project management, IP research, product testing, scientific research and product concept ideation. He spent more than a decade as GE Medical's Senior Scientist, a position in which he served as lead designer and scientist for GE Lunar Achilles Bone Densitometer, and head of GE Lunar's patent and IP team. As bb7's Vice President of Operations, Morris guided the ISO-13485 and ISO-9001 certification and implementation, grew the electrical and software engineering division, and doubled the entire bb7 team in less than 12 months.
Jim Frater retires from this position with appreciation from many bb7 clients and employees. He has served as President since he founded the company (as BIT 7) in 1992. Within that time, he successfully acquired and merged with historic Bjorksten Testing Labs (one of the 'b's in bb7), achieved $14 million in annual revenue, and continued a client loyalty rate of 90%. Frater was monumental in driving business; he helped land world-renowned projects including the IceCube project in Antarctica. "My success comes from the talents of my team. My passion has been serving the collective clients of Bit 7 and bb7 who have been intellectually stimulating, supportive, and fun. In 23 years, I have never had a dull moment or an extra minute. I thank my team, my partners, and my clients for our success," stated Frater.
Rich Morris will seamlessly take over where Frater leaves off. He intends to grow bb7's Staffing division, strengthen bb7's Research offering and prepare clients for the "Internet of Things." Further, he will work closely with bb7's new Marketing department to bolster the company's national presence.
When asked if he had a message for bb7 clients, Morris responded, "When you engage bb7, you engage the entire company. Our job is to make your product a success and we will take personal ownership of any project that we do for you. I promise that we will be fair and consistent partners – a team that you can count on. bb7 is the most talented group that I have ever had the pleasure to work with. Every day is a pleasure and I can't wait to share it with you."
About bb7: bb7 is an elite team of super-developers saving businesses one fully developed product development project at a time. Our unparalleled brainpower is the secret weapon in the fight to execute profitable product strategies. With the most capabilities under one roof, our cross-functional teams join forces to attack product development projects with creative and technical strengths available nowhere else. In search of that trusted product development partner who can tackle any problem, launch your products and guide you to victory? bb7 to the rescue!