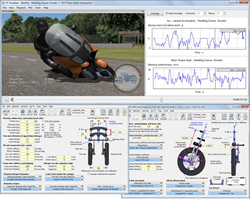 BikeSim 9.0 has major enhancements to the math models, the visualization tools, the database and the overall architecture. Dr. Michael Sayers, CEO
Ann Arbor, Mich. (PRWEB) May 26, 2015
Mechanical Simulation Corporation announces the release of BikeSim 9.0 vehicle dynamics software. According to Dr. Michael Sayers, CEO and chief technology officer, "We are in the process of upgrading all of our products, starting with CarSim 9.0 last year, and finishing with BikeSim this month. This is the most comprehensive upgrade since Mechanical Simulation was founded in 1996. BikeSim 9.0 has major enhancements to the math models, the visualization tools, the database and the overall architecture."
BikeSim 9 features a three-wheeled motorcycle in its software, with the two front wheels connected by a lean-link system. "The three-wheeled model includes the full 3D non-linear kinematics motions of the suspension, such as camber change, toe change, Ackermann steer, etc. These go far beyond the characteristics of conventional two-wheeled motorcycles," explained Dr. Yukio Watanabe, chief developer of BikeSim. Numerous improvements were also made to the existing math models, such as extending the tire model to handle asymmetric data, and increasing the number of add-on features such as sensors, payloads, etc. The number of roads and target paths was increased dramatically in support of customers developing Advanced Driver Assistance Systems (ADAS) technologies.
Other parts of the software package were also modified extensively, or in some cases, replaced completely. The plotting tool used since the earliest versions of the software has been replaced with plotting capabilities within VS Visualizer, the tool used to generate videos for simulated cameras. Plots and videos are now synchronized.
For more information on BikeSim 9.0, please visit http://www.carsim.com.
About Mechanical Simulation Corporation: Mechanical Simulation Corporation is a technology leader in the development and distribution of advanced software used to simulate vehicle performance under a wide variety of conditions. The company was established in 1996, and from its Ann Arbor, Mich., headquarters provides car, truck and motorcycle simulation packages, training and ongoing support to more than 110 OEMs and Tier 1 suppliers, over 200 universities and government research groups worldwide, and the vehicle dynamics models used in more than 1400 driving simulators. For more information, visit http://www.carsim.com.
###