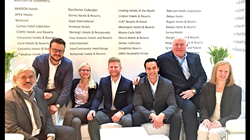 Implementing the Serenata NetHotel CRM allows Red Lion to personalize each guest's experience in a way that was previously impossible.
Redwood City, CA (PRWEB) June 04, 2015
While speaking at the 8th annual Loyalty Expo in Orlando, Bill Linehan, RLHC Chief Marketing Officer explained how the company's new guest recognition program, Hello Rewards, came into being. Wanting to simplify their loyalty program while making it more relevant with guests, RLHC re-envisioned their former point based program to knowingly recognize its members and instantly reward them with delightful surprises. In this way, Hello Rewards focuses on the guest, their behaviors, patterns and personal interests. Guest recognition and instant gratification became the mantra for the program and the entire company.
In order to provide the targeted and personalized experience that was needed to drive the new loyalty rewards program, RLHC sought a richer guest profile that could provide every associate who interacted with guests the available information on stay patterns, spending, special requests, promotional communications and reviews. RLHC partnered with Serenata to implement its centralized customer relationship management (CRM) system NetHotel. "We needed a 360-degree view of our guests in order to build relationships with our Hello Rewards members by personally noticing them and reward them with various perks, said Linehan. "Implementing the Serenata NetHotel CRM allows Red Lion to personalize each guest's experience in a way that was previously impossible," shared Bill Linehan.
At the core of NetHotel's sophisticated solution is transaction level integration to all guest related systems including the PMS (Property Management Systems) and CRS system, marketing initiatives and guest reviews. Serenata developed an elegant dashboard that seamlessly displays all guest interactions. This allows Red Lion team members to recognize and reward their best guests across all touch points.
Marketing initiatives can now be tailored and targeted at a very granular level. Campaign results are easily tracked and included in the profile information. Guest communications are dynamic and customized to their interests. At each step of the experience the system is designed to recognize and reward guests' behaviors and needs.
"The Serenata team is highly gratified to be selected by RLHC as their CRM provider. We believe their innovative approach coupled with the power of Serenata NetHotel will provide true differentiation in customer loyalty programs now and in the future," said Dieter Dirnberger, President of Serenata.
###
About Serenata:
Serenata IntraWare, Inc. is one of the leading providers of electronic marketing and CRM solutions for the hospitality industry. Our products Serenata @mail® and Serenata NetHotel® will help you maximize sales and profits. As a strategic partner we can assist you in reducing operational cost and in integrating CRM into your existing PMS and CRS landscape. To learn more about our innovative solutions for the hospitality industry visit http://www.serenata.com
About Red Lion Hotels:
Red Lion Hotels Corporation is a hospitality company primarily engaged in the franchising, management and ownership of upscale, midscale and economy hotels under theHotel RL, Red Lion Hotel, Red Lion Inn & Suites, GuestHouse International and Settle Inn brands. Established in 1959, the company has 130 hotels systemwide and also owns and operates an entertainment and event ticket distribution business. For more information, please visit the company's website at http://www.redlion.com.