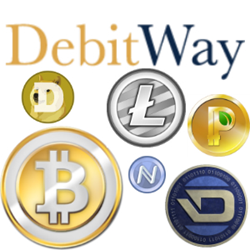 Our eMerchant partnerships in the Digital Currency industry have been some of our most rewarding
Montreal, Quebec (PRWEB) May 28, 2015
Montreal, Quebec, Canada based payment service provider (PSP,) DebitWay, is continuing to provide assistance to the crypto currency industry. DebitWay has delivered on its promise to deliver a turnkey family of online payment processing options tailored to its digital currency eMerchant partners needs.
With Credit Card Processing (CCP®), eCheck electronic funds transfer (EFT) processing and Direct Debit Transfer (DDT®) processing, DebitWay effectively arms its digital currency partners with the, or the combination of, payment options that they most need and desire in order to promote a successful business plan.
DebitWay's turnkey payment service and payment processing options offers those eMerchants in the crypto currency industry the ability to honor customer orders from over 50 countries worldwide. As a PSP who does not cringe or shy away from what many industry pundits deem "High Risk" partnerships in "High Risk" industries like digital currency, DebitWay adheres to its standards for qualifying merchant partners who operate in regulated industry verticals such as MSB's and Medical marijuana and high end replica furniture.
In so doing the Canadian payment service provider ensures that those eMerchants who seek trusted, effective and reliable online payment processing meet and maintain the required compliances in order to protect compliant processing.
"DebitWay takes great pride in the merchant partnership we have fostered over the years..." states DebitWay's Director of Business Development & Production Rod Tomita, "Our eMerchant partnerships in the Digital Currency industry have been some of our most rewarding".
DebitWay, in working with its digital currency eMerchant partners, has delivered on its promise to lower operating costs by automating the payment and payout processes. "Guaranteed payments, automated transaction processing and seamless website integration are just the tip of the DebitWay iceberg", added Rod Tomita.
Headquartered in Montreal, Canada, since 2004, DebitWay continues to be one of the leading Certified Payment Service Providers in the world, as well as a Payment Provider of INTERAC® Online in Canada. DebitWay merchant partners continue to benefit of being able to accept bank payments in real-time instantly.
Interac and the Interac logo are trade-marks of Interac Inc. The Interac Online Payment service is owned and operated by Acxsys Corporation