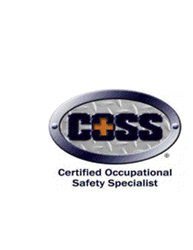 Almost 85% of COSS graduates responding to a survey indicated that since taking COSS, their company's injury rate and/or OSHA recordables have decreased by 25%, others attesting to as much as a 100% decrease!
Gibbstown, NJ (PRWEB) May 28, 2015
During the week of July 13th through July 17th, the Delaware Valley Safety Council (DVSC), in partnership with the University of Delaware, will be conducting another Certified Occupational Safety Specialist® (COSS) training and certification class at the University of Delaware Downtown Center (UDDC) located at 13 E. 8th Street (8th and King Streets) Wilmington, DE. In May, DVSC and UD completed their second successful COSS training class of the year at the UDDC graduating another new group of COSS certified students.
The COSS program is unique. Not only do students learn how to read and understand the OSHA 1910 and 1926 Code of Federal Regulations, which can help a company avoid OSHA citations costing millions of dollars, more importantly, students learn how to work safely on a job site and to teach fellow employees and coworkers how to eliminate the risk of fatalities and near misses.
COSS was created as an in-depth set of learning modules that equip workers with the core competencies of occupational safety and health for the Chemical, Construction, Energy, Engineering, Fire, Food, Government, Human Resources, Health, Medical, Municipal, Oil and Gas, Security, Shipyard, Transportation and Utility fields. The heart of the Certified Occupational Safety Specialist (COSS) Program is the solid foundation built on learning to read and apply the OSHA safety and training requirements in 29 CFR 1910 and 1926. Each orientation prepares the student to perform various duties in the safest possible manner. Upon successful completion of each specific course, the student will receive a Certified Occupational Safety Specialist certificate that lists the training and its expiration date. Owners and contractors may verify training through the COSS secure online database.
The Certified Occupational Safety Specialist course consists of five 8-Hour days, a total of 40 Hours. The Certified Occupational Safety Specialist (COSS) Program was designed for those in the safety and health field that coordinate the successful implementation of corporate safety and health plans; coordinate and maybe even conduct safety and health training; and/or provide support to safety and training managers. By learning how to promote safety on a job site, COSS graduates have the knowledge to help lower fatalities, near misses and OSHA citations.
Course Safety Awareness Level Topics Covered:
❖ Determine the true cost of accidents.
❖ Calculate total recordable incident rates.
❖ Search Company and public records to assess where the likelihood of an accident may lie.
❖ Master the use of the CFRs (both construction and general industry).
❖ Identify hazards, determine regulatory requirements, implement corrective actions, and train personnel in changes that are required.
❖ Perform risk analyses for key jobs and processes.
❖ Perform complete accident investigations.
❖ Develop and implement a safety audits and inspections program.
❖ Communicate corporate safety initiatives and goals.
❖ Develop, implement, and maintain company safety plans and manuals.
❖ Achieve OSHA "competent person" status.
Almost 85% of COSS graduates responding to a survey indicated that since taking COSS, their company's injury rate and/or OSHA recordables have decreased by 25%, others attesting to as much as a 100% decrease!
The class also addresses the psychology of safety, the true cost of an accident, hazard recognition, how to start a health and safety program, behavior-based safety, and much more.
Upon successfully completing the five-day, forty-hour program, students obtain not only the national Certified Occupied Safety Specialist designation, but also the OSHA 10-Hour Card of Completion in Construction, and the OSHA 10-Hour Card of Completion in General Industry. The Department of Labor (DOL) issues both OSHA 10-Hour cards.
The American Council of Construction Education (ACCE) and the American Association of Safety Councils (AASC) recognize COSS. COSS is the only non-degree program to receive this national endorsement. And COSS has been established as a mandatory course for students in the Construction Management program at Louisiana State University.
As noted, the program consists of 40 hours of hands-on, face-to-face learning, delivered by a COSS-certified, Authorized OSHA Outreach Trainer in both Construction and General Industry. Case studies and workshops are used extensively to bring learning objectives into focus. Guest speakers from areas such as OSHA and other governmental agencies contribute to enhance the learning experience. Student presentations, daily quizzes, practical reviews, and a comprehensive final exam allow for the demonstration of competencies.
The only prerequisite for the COSS program is a high school diploma or equivalent. Each class can have a mix of non-experienced, first-time safety personnel as well as safety professionals who have been in the safety field for over 20 years. Regardless of the number of years of experience one might have in safety, everyone leaves the COSS class with an expanded wealth of knowledge.
To learn more or to register: visit the Delaware Valley Safety Council website, http://www.dvsconline.org; the University of Delaware COSS website, http://www.pcs.udel.edu/safety/coss/; email DVSC Administration at dvscadministration@comcast.net; or phone DVSC Executive Director Brian McClafferty at 302-736-1986.