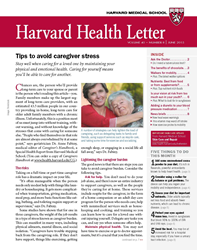 Boston, MA (PRWEB) June 05, 2015
The typical American diet is heavy in processed foods, refined grains, and added sugars, all of which come up short on essential vitamins and minerals. But even a healthy, well-balanced diet can fall short of needed nutrients, especially among older adults, reports the June 2015 Harvard Health Letter.
"As we get older, our ability to absorb nutrients from food decreases. Also, our energy needs aren't the same, and we tend to eat less," explains Dr. Howard Sesso, an epidemiologist at Harvard-affiliated Brigham and Women's Hospital.
Dietary supplements would seem to be the obvious way to plug vitamin and mineral gaps in the diet. But supplements make it easy to get too much of a particular nutrient without realizing it. With some vitamins and minerals, too much can be harmful.
It's best to improve the diet before using supplements, advises Dr. Sesso. That's because vitamins and minerals are most potent when they come from food. In food, they are accompanied by many other beneficial nutrients, including hundreds of carotenoids, flavonoids, minerals, and antioxidants that aren't in most supplements. Plus, food tastes better than supplements and is often less expensive.
For people who aren't able to make dietary changes, or those with genuine deficiencies in one or more nutrients, a supplement may be helpful. Look for a multivitamin with B vitamins (especially folate), vitamin D, iron, magnesium, and calcium. Choose a well-known brand that's been around for a long time and is likely to have been carefully tested, says Dr. Sesso.
Read the full-length article: "Should you get your nutrients from food or from supplements?"
Also in the June 2015 Harvard Health Letter:

Tips to stay healthy while caregiving
How to choose and adjust to a walker
Working more chocolate into the diet
The Harvard Health Letter is available from Harvard Health Publications, the publishing division of Harvard Medical School, for $20 per year. Subscribe at http://www.health.harvard.edu/health or by calling 877-649-9457 (toll-free).
xxx