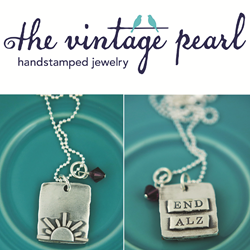 Alzheimer's is a devastating disease and we are excited to have the chance to help raise awareness and money. We are honored to be working with such a caring and determined organization
Tulsa, Oklahoma (PRWEB) June 02, 2015
Hand stamped jewelry company, The Vintage Pearl, has created a custom piece of jewelry to raise awareness and funds for the Alzheimer's Association during June, Alzheimer's & Brain Awareness Month.
Worldwide, 47 million people are living with Alzheimer's and other dementias and at the forefront of the cause is the Alzheimer's Association, the leader in Alzheimer's care, support and research.
In support of Alzheimer's & Brain Awareness month, The Vintage Pearl has created a custom unique piece of jewelry representing "The Longest Day." "The Longest Day" of the year, June 21, is also a sunrise-to-sunset event to honor those who face Alzheimer's with strength, passion and endurance. The Vintage Pearl and the Alzheimer's Association encourage families and friends to connect and participate in a shared activity – whether that's playing bridge, running, cooking, knitting, or anything else that is meaningful and fun (alz.org/tld).
To support the Alzheimer's Association, The Vintage Pearl designed a charm with the sunrise on one side of the charm and the words "end alz" on the other side. This hand crafted piece was designed, finished, and will ship from their Tulsa, OK studio. Available throughout June, the charm will be priced at $39.00 with twenty-five percent of the proceeds benefiting the Alzheimer's Association. Through the sale of this charm, The Vintage Pearl will donate a minimum of $25,000 to the Alzheimer's Association.
"Alzheimer's is a devastating disease and we are excited to have the chance to help raise awareness and money. We are honored to be working with such a caring and determined organization," says The Vintage Pearl Founder, Erin Edwards.
The Vintage Pearl's mission is to give back to those in need, including raising over $239,000 for the American Red Cross to benefit the Moore, Oklahoma tornado victims in May of 2013, and has supported many charities including the Salvation Army, Little Light House, Teen Challenge, The Demand Project, Susan G. Komen, Folds of Honor and the Tulsa Dream Center.
The Vintage Pearl creates hand stamped jewelry, personalized jewelry, and keepsakes that are customized with any names, initials, dates, or words of inspiration. The hand stamped jewelry is created using sterling silver, freshwater pearls, and birthstone crystals. The Vintage Pearl was founded in 2007 by mom of four, Erin Edwards, as a creative outlet while staying home with her children, and today, they ship jewelry all over the world. Learn more about The Vintage Pearl at http://www.thevintagepearl.com.
# # #