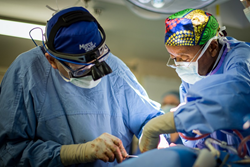 To help address the need in African countries, Mercy Ships provides training in the WHO Safe Surgery Checklist..
Amsterdam, Netherlands (PRWEB) May 27, 2015
Global charity Mercy Ships, together with 50 organizations, recently published a signed statement of the international symposium "Surgery in Low Resource Settings." At the conference, a group of doctors from 150 countries considered possible solutions to the lack of specialized medical care worldwide for two billion people. The main focal point was the sharing of knowledge. The declaration is available online for 60 days: http://link.springer.com/article/10.1007%2Fs00268-015-3057-x#page-1
In recent years, Mercy Ships has intensified the training of local surgeons and other medical professionals in the countries served. Mercy Ships International Chief Medical Officer, Dr. Peter Linz, notes, "Some estimates indicate that 85% of children in low-income countries will require surgery before age 15. Without access to quality surgery, these children will suffer disability or, in some cases, death."
Program Design Director for Mercy Ships, Michelle Bullington, states, "To help address the need in African countries, Mercy Ships provides training in the WHO Safe Surgery Checklist. This simple tool enhances communication amongst the entire surgical team and has proven to reduce mortality and morbidity rates in both low-income and high-income settings."
Mercy Ships provides training for surgeons and their surgical team, comprised of nurses, anesthesia providers, technicians, etc. The aim is to improve the surgical "ecosystem" within a hospital, thus enhancing the quality of surgery available locally.
The organization ICES (International Collaboration for Essential Surgeries) identified a lack of fifteen kinds of essential surgical procedures in developing countries. Mercy Ships has been conducting 6 of the top 7 types of operations in 12 African countries – in addition to training local surgeons, nurses, anesthetists and medical technicians to improve local healthcare.
(Source: Bickler SW, Telfer ML, Sanno‐Duanda B. Need for paediatric surgery care in an urban
area of The Gambia. Trop Doct 2003;33:91–4).
###
About Mercy Ships:
Mercy Ships uses hospital ships to deliver free, world-class healthcare services, capacity building and sustainable development to those without access in the developing world. Founded in 1978 by Don and Deyon Stephens, Mercy Ships has worked in more than 70 countries providing services valued at more than $1 billion, treating more than 2.5 million direct beneficiaries. Each year Mercy Ships has more than 1,600 volunteers from more than 40 nations. Professionals including surgeons, dentists, nurses, healthcare trainers, teachers, cooks, seamen, engineers, and agriculturalists donate their time and skills to the effort. Mercy Ships seeks to transform individuals and serve nations one at a time. For more information click on http://www.mercyships.org
For More Information Contact:
For USA: Pauline Rick
US Public Relations Coordinator
Mercy Ships
Office Tel: (903) 939-7000
Mob: (972) 922-5442
Email: us(dot)media(at)mercyships(dot)org
For Int'l: Diane Rickard
International Media Manager
Mercy Ships
Diane(dot)rickard(at)mercyships(dot)org
http://www.mercyships.org
Hi-res photos and general Mercy Ships B-Roll video footage are available upon request.