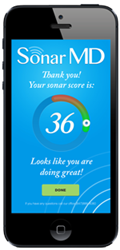 Rolling Meadows, IL (PRWEB) May 27, 2015
SonarMD, LLC, recently announced the release of its SonarMD Platform, a first-of-its kind, cloud-based algorithmic process for securely engaging, monitoring and managing patients with chronic gastrointestinal disease.
Developed by noted Gastroenterologist Lawrence Kosinski, MD, MBA, the application allows physicians to monitor their patients' health status between visits through the ongoing use of electronic health assessment surveys. Using nationally recognized evidence-based guidelines, the application applies a Patient Reported Outcomes score to each survey submission, alerting the physician to potential downward trends in a patient's condition. With early intervention, those trends can be reversed, resulting in fewer hospitalizations and enhanced overall patient care.
The first release of the SonarMD Platform has been deployed for patients with Crohn's Disease at the Illinois Gastroenterology Group (IGG), the largest Gastroenterology practice in Illinois. As managing partner of IGG, Dr. Kosinski has been a pioneer in innovative solutions for population health management. He spearheaded the development of the first Intensive Medical Home in partnership with Blue Cross/Blue Shield of Illinois for the management of Crohn's Disease, creating a cooperative triumvirate of patient, healthcare provider and payer who all benefit from the program's success in lowering overall healthcare costs while delivering better care delivery and outcomes. The SonarMD Platform is an extension of that career-long commitment to the concept of data-driven care management to advance better, evidence-based decision making in the management of patients with chronic gastrointestinal disorders.
"The release of the SonarMD Platform is a true game-changer, and we are thrilled to be launching it in partnership with one of the most respected Gastroenterology groups in the nation," says Tracey Powell, SonarMD CEO. "IBD affects nearly 1.6 million Americans, with as many as 70,000 new cases diagnosed every year. While providing a powerful support and decision-making system for current patients and the physicians who care for them, SonarMD data will, over time, be instrumental in the creation of new and better care pathways for future patients and their care providers."
Once fully implemented at IGG, the SonarMD Platform will be part of a national roll-out offered initially to practices specializing in Inflammatory Bowel Disease but with the potential of serving numerous other chronic disease populations.
About SonarMD
SonarMD, an Elgin Illinois based Delaware LLC, is committed to the development of Care Management Algorithms for the management of patients with chronic disease. Its leadership team combines some of the nation's top leaders in clinical medicine with the technology strength of Mutare, Inc. Together they intend to bring the leadership and tools for providers to succeed in Population Health. SonarMD.com or call 847-370-8878.