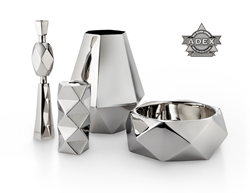 The innovative metalworking techniques illustrate the skills of only the most expert craftsmen in the world.
Torrance, CA (PRWEB) May 28, 2015
In the last 20 years, ADEX has become the largest and most prestigious awards program for product design of furniture, fixtures and finishes marketed to the design trade.
"The 2015 ADEX Awards attracted upwards of 500 companies submitting more than 2,000 innovative new products," said John Platter, executive director of ADEX. "The ADEX Award has recognized many outstanding product designs over the years, and Mary Jurek Design, Inc. has earned its place among that elite group."
The Ibiza Collection is a striking contemporary line featuring sharp geometric angles with smooth, high-mirror polished surfaces. The innovative metalworking techniques illustrate the skills of only the most expert craftsmen in the world. The handmade stainless steel Ibiza Collection, both modern and sophisticated, embodies the elegance unique to Mary Jurek Design, Inc. Any one of these stunning tableware items will add verve to your home decor.
"The 2015 Platinum and Silver Awards for Design Excellence reinforces our position as an industry leader in luxury goods tableware design," said Mary Jurek, CEO, Mary Jurek Design, Inc. "The positive consumer and professional feedback we've received for Mary Jurek Design, Inc.® reinforces both our commitment to high quality standards and our aspirations to deliver to our customers only the most innovative designs with enduring value."
All of the entries in each of the ADEX categories have potential for three award levels of platinum, gold or silver. Judges awarded points based on form, function, value, and fitness for particular purpose. Total points earned determined each winner's award level. All Platinum, Gold and Silver level products will be published in the 2015 ADEX Winners Edition and be featured all year on designjournalmag.com.
About Mary Jurek Design, Inc.
Mary Jurek Design Inc., is a Los Angeles based luxury goods company that designs and distributes handmade stainless steel tableware and home accessories to fine retailers throughout the USA, Canada, Mexico, UK, Middle East and the Caribbean Islands. Founded in 1998 by award winning diamond jewelry and watch designer Mary Jurek, the collection is recognized for its clean, bold lines combined with soft, organic flare, creating an "old world meet modern day" style that appeals to lifestyle enthusiasts everywhere. The continued success to the collection is attributed to its high quality, serviceable stainless steel bowls, pitchers, cocktail shakers and trays perfect for home use and entertaining needs of today. For more information, visit http://www.maryjurekdesign.com.