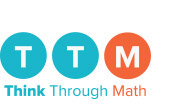 Our students' ability to achieve this level of math proficiency can be a game changer for them in their academic and professional lives.
Pittsburgh, PA (PRWEB) May 27, 2015
Think Through Learning, creators of Think Through Math, a web-based math instructional system for grades 3 and above, announced today that students using the program across the U.S. have surpassed one billion math problems in the 2014-15 school year. More than 2.9 million students across 13,000 schools across the country are enrolled in TTM as part of their math curriculum. Students solved an average of 8 to 10 million math problems per day in order to reach this milestone.
"This is a major achievement for us, but more importantly for the teachers and students who have embraced Think Through Math to deepen their understanding and improve learning outcomes," said Kevin McAliley, CEO of Think Through Math. "What's even more significant is the fact that many TTM lessons include multi-step, complex problems that require higher order thinking – our students' ability to achieve this level of math proficiency can be a game changer for them in their academic and professional lives."
The one billion problems solved this year represents an increase of 300% since 2012. In addition to the number of problems solved, Think Through Math students have also received millions of real-time on-line teaching sessions from Think Through Math's certified math teachers, which is an integral part of the program.
As the industry's most respected supplemental math curriculum, Think Through Math provides rigorous adaptive lessons built upon each state's learning standards, and is supported by the unique functionality of on-line math teachers to assist struggling students in real-time. Available to students from school and home, the system's embedded incentive program increases engagement, builds self-esteem and fosters deep conceptual understanding for sustainable improvements in outcomes. In addition, a charitable giving feature allows students to convert their points into donations to select charities. Think Through Math has received numerous awards since its introduction.
About Think Through Learning & Think Through Math
Think Through Learning is a company of passionate and committed U.S. math teachers, software engineers, and educational innovators whose mission is to help kids learn how to think mathematically. At Think Through Learning, we know that success in mathematics transforms how students perform in school and beyond. Our vision of effective education: a motivating blend of adaptive instruction on higher order thinking skills and on-demand online "instant 1-to-1 interventions" from LIVE, state-certified U.S. math teachers wherever a student is—school, home, or elsewhere—at the precise moment that they need assistance. The 2014 and 2012 recipient of the SIIA CODiE Award for Best Mathematics Instructional Solution, Think Through Math is recognized as the industry's fastest-growing supplemental math curriculum. Since its launch in 2012, Think Through Math has become a critical part of the RTI, STEM, and 1-to-1 strategies of thousands of districts and schools across the country, including several state departments of education and some of the largest districts in the United States.