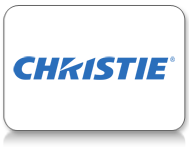 We are proud to collaborate with Christie once again at Palm Expo 2015 to showcase the magic of projection mapping...
Mumbai, India (PRWEB) May 28, 2015
Christie®, a global leader in visual display solutions, has joined its partner Modern Stage Service in showcasing advanced visual solutions and projection mapping at the Palm Expo 2015, taking place at the Bombay Exhibition Center in Mumbai from May 28 to 30.
After enthralling visitors with a projection mapping performance, combined with live choreographed dancing, to achieve an augmented theatrical setting at last year's show, Modern Stage Service is once again showcasing rich and vibrant visuals at booths J20- J36. Powered by 12 Christie Roadster 3DLP® projectors comprising HD14K-M and HD20K-J models on a circular screen and rectangular screen located at different parts of the booth, the resulting visual spectacle of dynamic 2D and 3D images effectively transforms what is reality for the audience into illusions and images of infinite possibilities.
"Audiences in India are fascinated with the infinite possibilities of projection mapping and it continues to be a popular medium used to complement large events and destinations for entertainment and other purposes," commented Davinder Wadhwa, director, Modern Stage Service. "We are proud to collaborate with Christie once again at Palm Expo 2015 to showcase the magic of projection mapping with the high performance and dependable Christie Roadster Series projectors. I'm confident that our showcase will allow AV specialists to better appreciate this art form and inspire them to stage more creative projection mapping shows that add value to their events and installations."
"The public's appetite for visually stunning projection mapping projects has been growing in India and that is why our showcase at Modern Stage Service's booth at Palm Expo is focused on delivering the best visual experience through the use of our Roadster Series projectors," said Lin Yu, vice president, Christie Asia Pacific. "Going forward, we expect more demand for projection mapping performances and visual solutions that have the ability to excite and enable people to share experiences. We will continue to showcase our cutting-edge projection solutions that leading rental stagers can confidently invest in for their reliability and unmatched features."
Christie has worked with Modern Stage Service on numerous projects in India, including the DS Group Museum and Nirankari water screen projection show in Delhi. The former features over 20 Christie LCD and 1DLP® projectors used for 360-degree and holographic projections, while the latter used Christie Roadster HD20K-J projectors to pay tribute to spiritual guru Baba Hardev Singh with an enchanting unison of sound, light and water. Both installations are highly popular and continue to mesmerize visitors with colorful and vibrant visuals.
Equipped with DLP® technology, high-quality optics and 10-bit image processing, the Christie Roadster Series use light efficiently to ensure brightness uniformity and are ideal for irregularly-shaped "screens" such as buildings, interior spaces and natural landscapes. Embedded with Christie Twist™, the projectors allow users to expertly edge-blend and warp multiple curved images seamlessly onto almost any projection surface.
About Christie
Christie Digital Systems USA, Inc. is a global visual technologies company and is a wholly-owned subsidiary of Ushio, Inc., Japan. Consistently setting the standards by being the first to market some of the world's most advanced projectors and complete system displays, Christie is recognized as one of the most innovative visual technology companies in the world. From retail displays to Hollywood, mission critical command centers to classrooms and training simulators, Christie display solutions and projectors capture the attention of audiences around the world with dynamic and stunning images. Visit http://www.christiedigital.com.
Christie® is a trademark of Christie Digital Systems USA, Inc., registered in the United States of America and certain other countries.
DLP® is a registered trademark of Texas Instruments.