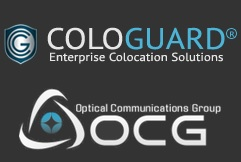 The new partnership is in line with ColoGuard's commitment to offering the latest technology at competitive prices.
New York, NY (PRWEB) May 27, 2015
Optical Communications Group (OCG), a leading fiber optic connectivity provider based in New York, announces today it has lit a 100 Gigabit system linking ColoGuard's newly expanded data centers located at 882 3rd Ave in Brooklyn to 325 Hudson, Netrality Properties' carrier-neutral interconnection facility located in the heart of NYC's telecom corridor.
ColoGuard operates state-of-the-art, HIPAA and SSAE 16 compliant data centers, offering affordable enterprise colocation solutions for companies of all sizes. ColoGuard will continue its no monthly cross-connects fees policy along with offering its first month free and zero setup fees through the end of June, in honor of the recent expansion.
The high performance connectivity will allow ColoGuard's customers to obtain facilities based services such as voice, data, Layer 2 transport, and Ethernet, directly from OCG's 100% fiber optic network – all via 325 Hudson's carrier-neutral Meet Me Room.
As owner/operator of over 600 route miles of network throughout the New York area, stretching from Long Island through the outer boroughs and into New Jersey, OCG efficiently deploys secure last-mile fiber solutions to NYC metro carrier hotels and enterprise buildings. The company's engineering and technical team has over 25 years of network deployment experience and is supported with 40+ trucks, submarine cable boat and construction equipment – all available to address the most complex of projects.
"OCG works hard to design cost-effective network solutions so that companies of all sizes can benefit from high quality, reliable connectivity options," comments Brad Ickes, Founder and President of Optical Communications Group. "We are confident this addition of secure network capacity will allow both 325 Hudson and ColoGuard to expand their opportunities and reach new customers."
 
"This new high capacity 100Gb connection will allow tenants in Brooklyn the flexibility and options to optimize their network connections based on applications and connectivity requirements all the way through the dense Meet Me Room at 325 Hudson, whether retail, transit or transport, and also reciprocally make available the excellent hosting services that ColoGuard has the expertise in," John A. Danko, Director of Business Development at 325 Hudson.
'The new partnership is in line with ColoGuard's commitment to offering the latest technology at competitive prices," said ColoGuard Vice President and Co-Founder Ruben Magurdumov, ColoGuard's VP of Operations. ColoGuard's Brooklyn data centers are marked by N+2 design, multistage security features, and HIPPA, SSAE16 Type 2 & SOC2 Compliance. The company recently announced a data center expansion, which doubled the size of its data center to over 50,000 sq. ft. of raised floor space for scalable racks, locking cabinets, cages and private suites.
For more information about OCG's scalable turn key data and Internet solutions, please email info(at)ocgfiber(dot)com or call +1(877) 736-7624.
# # #
About Optical Communications Group
Optical Communications Group (OCG) is a facilities-based provider of technologically advanced, high bandwidth fiber optic transmission capacity for communications carriers. Since the start of the OCG network in 1998 our customers have experienced a zero failure rate. OCG operates networks in Long Island, New Jersey and New York City's five boroughs using one hundred percent underground fiber optic cables, which link various locations and customers. OCG provides connections to the trans-Atlantic cables located in Long Island and has an infrastructure that predominantly covers the five boroughs in New York and Long Island, providing a redundant,
secure network. Visit us at http://www.OCGfiber.com
About ColoGuard
ColoGuard Enterprise Colocation Solutions was born out of the increasing need for affordable enterprise colocation solutions. Since 2004, ColoGuard has been a privately held colocation provider, based in the heart of Brooklyn, NY, just minutes from Manhattan. With state-of-the-art, HIPAA and SSAE 16 compliant data centers, ColoGuard's goal is to provide affordable enterprise colocation solutions for companies of all sizes. ColoGuard's facilities offer diverse network routes via dark fiber, 24/7/365 on-site technical support, and prices and services unmatched by competitors. Data center tours are available at http://www.colocationguard.com/data-center/data-center-tour
For OCG media inquiries, please contact:
Jaymie Scotto & Associates
+1.866.695.3629
pr(at)jaymiescotto(dot)com
For ColoGuard media inquiries, please contact:
Renata Magurdumov
Director of Marketing
Renatam(at)ColoGuard(dot)com
(917) 647-1762