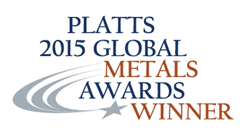 Klein Steel is honored to have been selected as the 2015 Metals Distributor of the Year among such highly esteemed global organizations, Todd Zyra, President
Rochester, NY (PRWEB) May 27, 2015
Klein Steel Service Inc. was named Metals Distributor of the Year at the 2015 Platts Global Metals Awards held in London on May 21. Hosted by Platts, a leading global energy, metals and commodities information provider, the annual awards program honors exemplary performance in a dozen categories spanning the entire steel, metals and mining complex.
"Klein Steel is honored to have been selected as the 2015 Metals Distributor of the Year among such highly esteemed global organizations," said Todd Zyra, President, "We're truly grateful to be recognized by Platts as a 'company with strong statistics, satisfied customers and a compelling story'."
"With each year, entries for the Awards program become more competitive and winning is no small feat," said Larry Neal, president of Platts. "We congratulate Klein Steel Service for its impressive win in the 2015 Platts Global Metals Awards."
As detailed in Platts insight magazine, Klein Steel scored high marks in all judging criteria, impressing the judges with the value it adds to the commodity chain. Judges were inspired by Klein Steel's ability to plan for growth while keeping an eye on the economy and remaining flexible.
For the full list of 2015 Platts Global Metals Awards winners, including the judges' rationale, visit the Platts Global Metals Awards website (http://gma.platts.com/).
About Klein Steel: Founded in 1971, Klein Steel Service Inc. is a premier steel service center with locations throughout New York. With over 3,200 line items of carbon, stainless steel, and specialty metals, the company offers a full range of value-added processing, an integrated distribution network that extends the Klein Steel reach worldwide and compliance to strict Nuclear Energy (NQA-1) guidelines. Klein Steel is acknowledged as an innovator and industry leader having been named a finalist in 2014 for the Service Center of the Year award from American Metal Market, a 2015 winner of a Rochester Top Workplaces award, a 2012 recipient of the Rochester Business Ethics Award, and winner of the IndustryWeek Best Plants award in 2011. Additional information is available at http://www.kleinsteel.com.
About Platts: Founded in 1909, Platts is a leading global provider of energy, petrochemicals, metals and agriculture information and a premier source of benchmark prices for the physical and futures markets. Platts' news, pricing, analytics, commentary and conferences help customers make better-informed trading and business decisions and help the markets operate with greater transparency and efficiency. Customers in more than 150 countries benefit from Platts' coverage of the biofuels, carbon emissions, coal, electricity, oil, natural gas, metals, nuclear power, petrochemical, shipping and sugar markets. A division of McGraw Hill Financial (NYSE: MHFI), Platts is based in London with more than 1000 employees in more than 15 offices worldwide. Additional information is available at http://www.platts.com.