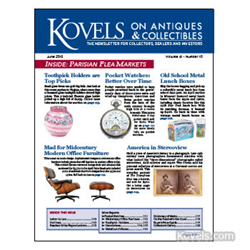 Cleveland, OH (PRWEB) May 28, 2015
Toothpick holders sold at a Virginia auction are featured in a sale report in "Kovels on Antiques and Collectibles" June 2015 newsletter. Small toothpick holders can bring high prices, like an art glass toothpick with cranberry swirl and mica flakes that brought $1,035. See pictures, descriptions and prices of other pattern and figural glass toothpick holders that sold from $46 to $4,600. The sophisticated and versatile forms of midcentury design are ideal for the office as well as the home. Kovels' June newsletter pictures Mad Men worthy pieces still suitable for the modern office that sold in Palm Beach, Florida, where a lounge chair and ottoman by Charles and Ray Eames went for $3,500. And collectors skipped brown bagging and picked up metal lunch boxes from the 1950s and '60s at an April Missouri auction. About 300 metal lunch boxes that pictured classic movie and television characters like Mickey Mouse ($58), Popeye ($81) and Superman ($551) were sold, many with matching thermos. Old-school examples can be found with prices in Kovel's June issue.
Late 19th century photographers documented everyday life, scenic views and historical events with photographic images that look three-dimensional, called stereoviews. People could relax in their parlors while seeing the country with a box of stereoview cards and a viewer. A single collection of stereoviews sold at a recent Cincinnati auction. Learn more about these stereoscopic photographs and see examples that sold for up to $2,700 in Kovels' June newsletter. American and Swiss pocket watches from the turn of the 20th century sold at an Iowa auction where the top seller, an early E. Howard pocket watch in an engraved 18K gold hunting case, brought $5,650. Kovels' latest issue has timely information about pocket watches, as well as pictures and prices of pieces by famous makers like Elgin, Waltham, Hebdomas and Agassiz.
Kim Kovel reports on the Parisian flea market scene. The popular illustrated Collector's Gallery answers readers' questions about a Herrington teddy bear, a Japanese "Kinkozan," a Hunzinger "lollipop" chair and an old wall phone. The June Dictionary of Marks pictures Depression glass patterns named after fruit. And prices of dozens of antiques and collectibles are listed in the Buyer's Price Guide.
"Kovels on Antiques and Collectibles" is available as a print subscription or as a digital version that is part of the Kovels.com Premium subscription.
Terry Kovel is America's foremost authority on antiques and collectibles. She is the well-known columnist and author of more than 100 books on antiques and collecting. With her daughter, Kim Kovel, she co-authors the best-selling annual "Kovels' Antiques and Collectibles Price Guide." The 2015 edition is now available in bookstores and online. They will discuss antiques and collectibles topics with accredited media. Photographs are available. Contact pr(at)kovels(dot)com.
About Kovels.com
Kovels.com, created by Terry Kovel and Kim Kovel, provides collectors and researchers with up-to-date and accurate information on antiques and collectibles. The company was founded in 1953 by Terry Kovel and her late husband, Ralph. Since then, Kovels' Antiques has written some of America's most popular books and articles about antiques, including the best-selling "Kovels' Antiques and Collectibles Price Guide," now in its 47th edition. The website, Kovels.com, online since 1998, offers more than 1 million free prices, and includes a free weekly email, "Kovels Komments." It gives readers a bird's-eye view of the market through the latest news, auction reports, a Marks Dictionary, readers' questions and answers and much more.
Contact Information:
Liz Lillis
216.752.2252
Pr(at)kovels(dot)com