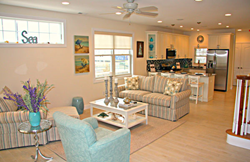 The award-winning family-friendly beach community offers 26 single-family homes with three bedrooms, two and a half baths and up to 1,805 sq. ft. of living space when the optional third floor is selected.
Seaside Heights, NJ (PRWEB) May 29, 2015
Island Beach Way, new development of 26 detached-single family homes in Seaside Heights, being built by Danitom Development, a NJ-based homebuilder, recently received the prestigious Community of the Year award from the New Jersey Builders Association (NJBA). The Sales and Marketing Awards banquet, which was recently held in Atlantic City, honored members of the NJBA who have displayed excellence in product design and sales and marketing efforts during the previous year.
"Everyone at Danitom Development would like to thank the NJBA for these esteemed designations," said Tom Critelli, President of Danitom Development Inc. "We would also like to thank our design team, marketing team, trade partners and home buyers for making Island Beach Way so successful. Island Beach Way is truly unique and the extraordinary efforts and talents of all professionals who worked to make this amazing award winning community so special are recognized by having won this coveted prize."
Island Beach Way also received five awards at the 12th Annual FAME Awards, presented by the Shore Builders Association of Central NJ. The awards included Community of the Year, Architectural Product Design, Interior Merchandising, Logo Design and Signage.
The award-winning family-friendly beach community offers 26 single-family homes with three bedrooms, two and a half baths and up to 1,805 sq. ft. of living space when the optional third floor is selected. "To enhance your carefree beach lifestyle, you never have to worry about landscaping or driveway maintenance," said Critelli. "All residences are maintained by a Homeowner's Association, which gives you the freedom to enjoy your new home without the hassle. Smart home technology is available to keep all owners in touch with their residences whether they're at the beach or anywhere they have a cell connection. All homes come with a 10-year new home warranty program."
Island Beach Way residences feature nine-foot ceilings in all first floor living areas, and ceramic tile or hardwood floors in the foyer, kitchen, family room, living room, dining room and laundry room. Designer kitchens include 42-inch oak or maple raised panel cabinets with crown molding, granite countertops, a GE stainless steel range with self-cleaning oven, a GE stainless steel microwave and a GE stainless steel dishwasher. Homes also include a laundry area with washer and dryer hookups, ample storage, private parking for two cars in the rear, individual exterior showers, central air conditioning and gas fired forced hot air heat.
Located at the intersection of Grant, Central, and Sherman Avenues, the development is served with a common driveway running through the rear of the properties which provides private access and parking for the residents. There is ample street parking for guests. By moving the driveway to the rear, the community is able to maintain a quaint streetscape of front porches along a tree lined street.
Nestled in Ocean County between the Barnegat Bay and the Atlantic Ocean, Island Beach Way residents have easy access to Seaside Heights' mile-long boardwalk that features rides, classic arcades, games, water parks, carousels, miniature golf courses, eclectic dining and trendy boutiques. "If you seek the enjoyment of Jersey Shore amusements, you'll find them all within walking distance of your new home at Island Beach Way," said Critellli.
The community is in close proximity to New York City, Philadelphia, Long Beach Island, Atlantic City and other seaside destinations, including Island Beach State Park.
To learn more about Island Beach Way, visit IslandBeachWayHomes.com.
About Danitom Development Inc.
Since 1992, Danitom Development Inc. offers a full range of construction projects throughout NJ, particularly central NJ and the Jersey Shore. From elegant residential projects to large-scale commercial development, it has continuously validated its reputation as a dependable and relationship-driven builder of more than 350 homes.