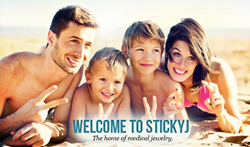 StickyJ is now The Home of Medical Jewelry!
St. Petersburg, Florida (PRWEB) June 19, 2015
A word from Lori Torman, the CEO of StickyJ LLC.
It's a pleasure to bring together the two most highely trusted medical jewelry brands in America, with a combined history of more than 65 years. StickyJ is now the Home of Medical Alert Jewelry.
StickyJ products were created for the fashion-conscious who still need to wear a medical id. StickyJ combines trendy styles with classic designs – for functional medical jewelry that's fun to wear! As always, StickyJ uses only the best quality surgical stainless steel and the most reliable permanent engraving systems.
In the early 1960's Oneida partnered with the American Medical Association to create the first Medical Identification Jewelry. Oneida, with its distinctive medical symbol, has stood as the most trusted name in medical jewelry ever since. In 2014, Oneida's founder passed away; but the business found a home with another family-run company built on similar business values and years of experience. StickyJ is honored to carry on a half century of tradition and confident Oneida's customers will fall in love with the unbeatable Prices, incredible Customer Service, and 3 day turn around that StickyJ customers have enjoyed since 2000.
This merge creates the most complete authority source for medical jewelry with just the click of a button. StickyJ seeks new fashions for medical alert jewelry while Oneida brings a deep history and dependability. StickyJ can now specialize conversations to be only the medical content customers want to hear. An exclusively medical StickyJ means more time spent staying on top of the latest medical developments, healthy recipes, condition/disease awareness sales, and of course, what's new in medical alert jewelry.
Previous customers shopping for custom engraved jewelry, personalized gifts, or corporate logo jewelry, can find all of the great products and incredible values at their newest site, Thoughtful Impressions. All of StickyJ's personalized jewelry, engraved gifts, and so much more can be found on a site that will surely leave an impression. In addition to quality personalized engraving on stainless steel, 14K gold, sterling silver, leather, and wood – Thoughtful Impressions now offers new engraving styles such as embroidery, sand blasting glass, and typography inspired designs for signs, fabrics, and more!
Those looking for medical alert bracelets, necklaces, and accessories should get excited to start shopping at the Home of Medical Alert Jewelry. Let StickyJ be your favorite place to shop for medical id jewelry now, and in the future.