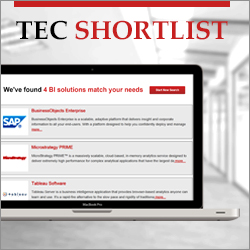 "Knowing that all the solutions on your shortlist are designed for your basic needs is a tremendous insurance policy against making a poor choice." -- Lorne Goloff, VP of Software Selection Services at TEC
Montreal, Quebec (PRWEB) May 29, 2015
Technology Evaluation Centers (TEC) is pleased to announce the launch of its new online software shortlist app. Noteworthy for its simple 3-step process, the app allows companies to quickly generate a shortlist of software solutions that meets their high-level business requirements, for free.
Powered by TEC's extensive database of software solutions features and functions, the app generates a shortlist based on the type of software business execs are looking for along with information such as their industry, company size, and desired high-level functionality. The TEC Software Shortlist app was developed so that companies could have a quick way of generating a shortlist of software solutions from among the thousands of solutions available on the market.
As Lorne Goloff, VP of Software Selection Services at TEC, points out, "Knowing that all the solutions on your shortlist are designed for your basic needs is a tremendous insurance policy against making a poor choice. And as we know from years in this business, and as companies around the world have learned the hard way, bad software selections are commonplace."
The TEC Software Shortlist app is the latest addition to TEC's broad range of software selection tools and services. In fact, the app is a faster, more streamlined version of TEC Advisor—an online application that allows users to compare the features of software solutions at whatever level of detail they need.
The app is in the beta stage and undergoing continual improvements, with plans to add features adopted from TEC's extensive database and online resources for software selection while maintaining the app's quick, simple interface. The app is free to use and is currently available for five major types of enterprise software:

Enterprise Resource Planning (ERP)
Business Intelligence (BI)
Customer Relationship Management (CRM)
Human Capital Management (HCM)
Supply Chain Management (SCM)
To learn more about the TEC Software Shortlist app and TEC's software selection services, contact +1 514-954-3665, extension 404, or e-mail selectionservices@technologyevaluation.com.
About Technology Evaluation Centers (TEC)
Technology Evaluation Centers (TEC) is the world's leading provider of software selection resources, services, and research materials, helping organizations evaluate and select the best enterprise software for their needs. With its advanced decision-making process and software selection experts, TEC reduces the time, cost, and risk associated with enterprise software selection.
Over 3.5 million subscribers leverage TEC's extensive research and detailed information on more than 1,000 leading software solutions across all major application areas. TEC is recognized as an industry-leading software selection advisory firm offering resources and services both online and onsite. For more information, please visit http://www.technologyevaluation.com.