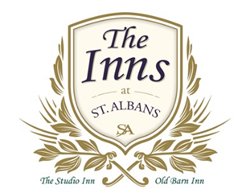 Brides, event planners and guests continue to be wowed by the sheer beauty of the property. It's like being in the European countryside, but you are only 45 minutes from downtown St. Louis
ST. ALBANS, Mo. (PRWEB) May 28, 2015
The historic Old Barn Inn and The Studio Inn at St. Albans and the stunning surrounding Gardens at Malmaison, have reopened as The Inns at St. Albans. Nestled on acres of scenic rolling hills near the Missouri River, The Inns offers high-end hospitality and service in a beautiful country atmosphere. The re-opening comes following a $3.5 million renovation that includes kitchen expansions and the addition of guest cottages, a secret rooftop garden, an outdoor pavilion and a vineyard.
The Inns' European-style and charm make it a unique destination for weddings, corporate retreats, special events, golf outings and getaways. "Brides, event planners and guests continue to be wowed by the sheer beauty of the property. It's like being in the European countryside, but you are only 45 minutes from downtown St. Louis," said owner Datra Herzog. "And with the recent renovations, we can offer exclusive accommodations, amenities and service."
Herzog, who has owned the properties since 2004, believes the updates will better meet the needs and expectations of today's brides as well as those who are looking for an unforgettable experience. "Weddings are no longer a one-day event. There's a real desire for family and friends to gather and celebrate in the days before and after the nuptials. The Inns offer the accommodations and amenities for a seamless extended celebration," said Herzog.
Recent updates include the addition of an outdoor pavilion which can seat 250; extensive kitchen expansions where gourmet creations are prepared; a new secret rooftop garden for parties of 60; and four new 550-square-foot cottages. Each cottage sleeps two individuals and features wood-burning fireplaces and private patios. The new cottages will complement The Studio Inn at St. Albans, which has six bedrooms, a billiards room and a gourmet kitchen, and can currently accommodate up to 12 overnight guests. The Studio Inn provides sweeping views of the Missouri River and overlooks the new vineyard that is expected to produce 6,000 bottles of wine annually.
Guests of The Inns also can take advantage of a range of amenities at the nearby Country Club of St. Albans, including use of the golf course, pool and tennis courts as well as access to the dining rooms at the Club. "This is an ideal arrangement for our guests," said Herzog. "Often, during the week, we'll have corporate groups or private organizations that will book The Inns for meetings or retreats and decide to include a round of golf or a tennis match into their activities. The use of the Club adds to their overall experience."
Additionally, The Inns is a dog-friendly property. Herzog, a dog lover and pet parent, stocks The Inns' boutique market with unique dog toys and other canine sundries. "Pet parents don't need to exclude their four-legged family members from the festivities or settle for accommodations elsewhere that are less than desirable – dogs are always welcome at The Inns."
For more information about The Inns at St. Albans, visit innsatstalbans.com or call 636-458-0131.
About The Inns at St. Albans
The Inns at St. Albans feature two breathtaking properties, the Old Barn Inn and The Studio Inn. Originally built in 1843 as a barn, the main building of the Old Barn Inn was transformed and expanded in 1928. The Old Barn Inn features a new outdoor pavilion with seating for 250; a commercial kitchen; a patio area; a rooftop garden for parties of 60; a boutique market stocked with unique gifts and sundries; a full bar and cocktail area; and indoor seating for up to 60. The Studio Inn was built in 1916 by renowned architect Theodore Link, who designed St. Louis Union Station. With sweeping views of the vineyard and Missouri River, The Studio Inn has six bedrooms, a billiards room and a gourmet kitchen. The Studio Inn can accommodate up to 12 overnight guests as well as up to 30 guests for inside dining and up to 150 guests for outdoor dining. Both properties are surrounded by acres of gardens and manicured grounds designed to create an unparalleled atmosphere for weddings, corporate events, private parties and getaways. Visit innsatstalbans.com or call 636-458-0131 for more information.
# # #