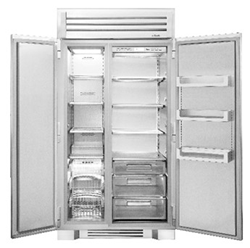 Listening to the feedback from the design community and world renowned chefs...our engineering team to develop a product that we believe will meet, if not exceed our clients' high standards--Director of Sales & Marketing Steve Proctor
LOS ANGELES, CA (PRWEB) May 27, 2015
For decades, consumers have put True® Refrigeration commercial products in their residential kitchens to accomplish the look, work space and performance of a professional kitchen. After working tirelessly to design a full-size refrigerator that meets the expectations of its discerning clientele, True will present the latest addition to its True Residential™ refrigeration line, The True 42, at Dwell on Design Los Angeles on May 29-31, 2015 at booth 1513.
"Listening to the feedback from the design community and world renowned chefs, we worked closely with our engineering team to develop a product that we believe will meet, if not exceed our clients' high standards," said True Director of Sales and Marketing Steve Proctor.
Everything about The True 42's design feels solid, well thought out and of the highest quality. Its commercially inspired stainless steel exterior features ergonomically designed tubular handles that are comfortably sized. The industrial-grade door hinges are beautifully crafted and rated for extreme tolerance, passing True's rigorous one million door openings test. The True 42 features a stainless steel interior, ensuring a hygienic, antibacterial and easy-to-clean surface that never holds on to potential odors.
TWEET THIS: The new True 42 makes a stunning statement as @true_res's first full-size residential refrigerator. #DODLA http://bit.ly/1C5GZjz
In addition, the side-by-side refrigerator/freezer boasts a more sophisticated version of the company's famed True Precision™ temperature control with a sleek LCD readout. The refrigerator side features four steel-encapsulated adjustable glass shelves above three industry exclusive stainless steel bins featuring soft-close action. The freezer offers similar styling and functionality with four polished stainless steel shelves and three stainless steel basket drawers.
At Dwell on Design, designers will also be able to see the category-changing, all-new True Residential 15-inch Clear Ice machine. The latest addition to the True Residential product line, this undercounter ice machine is a dream come true for the most discerning home chefs and home entertainers who truly want a commercial experience.
No longer will homeowners have to worry about running out of ice during day-to-day use or while entertaining. The True Clear Ice machine is capable of producing an impressive 70 pounds of ice per day and can store up to 28 pounds. In addition to producing the most ice per day, its energy efficiency is unmatched. It produces ice while using less water and energy than any other clear ice machine in the industry. In fact, the residential True Clear Ice machine is the only 15-inch undercounter clear ice machine that qualifies for Energy Star.
Those looking for an ice machine to complement their outdoor entertainer's kitchen need to look no further – the True Clear Ice machine is UL rated for both indoor and outdoor use, making it an incredibly convenient and energy efficient appliance.
# # #
About True Residential
True Residential™ is a division of True Manufacturing Company. For 70 years True® has been an industry leader in commercial refrigeration. Now homeowners can experience that same quality with True Residential, an authentic commercial refrigeration line refined for the home. Handcrafted in the USA with the same meticulous attention to quality and detail industry professionals demand, the residential series includes award-winning wine cabinets, refrigerators, beverage centers, refrigerator drawers and beer dispensers. For more information about True Residential, call 888-616-8783 or visit http://www.true-residential.com.
About Dwell on Design Los Angeles
Dwell on Design Los Angeles, curated by the editors of Dwell magazine, returns to the Los Angeles Convention Center May 29-31, 2015. With three full days of dynamic exhibitions, unparalleled educational opportunities, cutting-edge technologies, 90 onstage programs, 250+ speakers, and more than 2,000 innovative modern furnishings and products, Dwell on Design Los Angeles is America's largest design event.