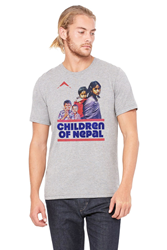 Corporate responsibility is about giving back
Los Angeles, California (PRWEB) May 27, 2015
TICDA recently ran a 2 phase PR stunt on April Fools 2015, announcing some funny news regarding the name change of Mount Everest to Mount TICDA and a fake arrest of co founder Tarik Batal in order to create awareness for their very real campaign to pledge 10% of online sales to support the Children of Nepal.
Since then, unfortunate events have struck the beautiful country and people of Nepal where many families have suffered and lost their homes. In light of the recent tragedies that took place throughout Nepal, TICDA has now committed to raise their original pledge of 10% of their online sales to 25% of online sales throughout the month of June and July 2015. All proceeds will go toward the Nepal Earthquake Relief Fund.
"TICDA started as a family owned business instilling the (I Can Do Anything) belief, with a vision to motivate and inspire people from all walks of life. Right now our main focus is to spread this message to the people in Nepal as we believe with support from all over the world that they can get through this. What's happened is very tragic and together we can all help them rebuild their communities and homes. We hope we can create a positive impact here and wish the people of Nepal only health, love and happiness." says Tarik Batal Co Founder and Creative Director of TICDA. Tarik is also an Executive Producer of The Noble Awards & Co-Founded a non-profit Superhope, which works with children with Cancer to help boost their positive mental attitude by turning them into Superheroes.
TICDA (Today I Can Do Anything) is a U.S motivational and inspirational apparel line that engages you to think positive and motivates you to excel. It has become a positive movement since its establishment year 2012 with incredible life changing stories from people who have adopted the slogan in their everyday life. The brand holds corporate ethics to support good causes and positively impact communities.
To show your support, please visit ticda.co