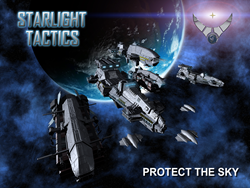 "In terms of turn based tactics this is very unique. This is the first one of its kind to use 3 dimensions that I know of for movement and placement, and it works and functions very well"
Austin, Texas (PRWEB) May 27, 2015
Following a successful launch on Steam in April, Escape Hatch Entertainment, LLC today announced that Starlight Tactics™, its full 3D turn-based tactical space combat game, would be releasing on iTunes and the Mac App Store on Thursday, May 28, 2015.
In Starlight Tactics, players will travel through our star system a hundred years from tomorrow, plunging into the conflict of World War IV. Starlight Tactics draws upon the rich mythology established in Starlight Inception, Escape Hatch Entertainment's breakout game on Playstation Vita, Steam and Playstation 3. Starlight Inception was born from a successful Kickstarter in 2012 and is still the first space combat game of its genre offered on the Vita.
Starlight Tactics is the brainchild of Garry Gaber, twenty-two year game industry veteran and formerly of LucasArts Entertainment Company, where he acted as the project leader of Star Wars Galactic Battlegrounds and Star Wars Galactic Battlegrounds: Clone Campaigns as well as working on Star Wars Jedi Knight and Star Wars Shadows of the Empire.
"Starlight Tactics offers players a unique experience for tablet and Mac - the ability to pit massive starships against each other in three dimensions - heading, pitch and roll are fully integrated into the game experience, and really effect what you can do with those ships. Players have told us that it really feels like they are in space controlling these ships. And being able to play a session of Tactics on your iPhone or iPad is a blast."
Added producer Melissa Gaber, "This game showed well at both PAX South and SXSW Interactive earlier this year. We received a great deal of feedback through these showcases and our Beta program and the game has been polished to deliver a great experience. It is built using the Unity Game Engine, which has allowed Garry quite a bit of freedom to quickly execute enhancements and fixes, and he has some cool additions planned in the near future for this game."
Both Gabers add that "We are really excited to see what players think of this game."
Starlight Tactics iOS and Mac joins the release of Starlight Tactics PC and is also being developed for Android, PS Vita, PS3, PS4, XBOX One, and Linux.
The Press Kit is available at: http://eschatch.com/presskit/tacticspresskit.html
For more information on the Steam version, please visit: http://store.steampowered.com/app/354050
About Escape Hatch Entertainment
Escape Hatch Entertainment is an independent electronic entertainment studio that develops handheld, computer and console video games focused on great gameplay and compelling stories. Based in Austin, Texas, as well as on the Internet at http://www.eschatch.com, Escape Hatch Entertainment was created in 2004 to create both entertainment and learning games.
Starlight, Starlight Inception and Starlight Tactics are trademarks of Escape Hatch Entertainment LLC. All other trademarks are the property of their respective owners.
© 2015 Escape Hatch Entertainment LLC. All rights reserved.
Website: http://www.starlighttactics.com
Like us on Facebook at http://www.facebook.com/starlighttactics
Follow us on twitter: @escapehatchent