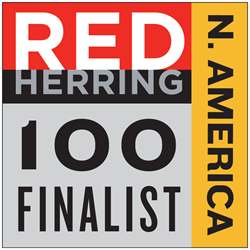 This unique assessment of potential is supplemented by a review of the company's actual track record and standing, which allows Red Herring to see past the "buzz" and make the list a valuable instrument for discovering and advocating the greatest business
San Francisco, CA (PRWEB) May 27, 2015
Wiser announced today it has been short-listed for Red Herring's Top 100 North America award, which honors the year's most promising private technology companies from North America.
Red Herring has been selecting the most exciting and promising start-ups and "scale ups" since 1995. Finalists are evaluated individually from a large pool of candidates based throughout North America. Twenty major criteria go into the scoring and selection process. They include, among others: the candidate company's addressable market size, its intellectual property and patents, its financing, the proof of concept, trailing revenues and management's expertise. The list of finalists often includes the best performing and most prominent companies of the year.
This unique assessment of potential is supplemented by a review of the company's actual track record and standing, which allows Red Herring to see past the "buzz" and make the list a valuable instrument for discovering and advocating the greatest business opportunities in the industry. During the several months leading up to the announcement, hundreds of companies in the fields of security, cloud, software, hardware, big data, life sciences, mobile and others completed their submissions in hopes of qualifying.
"Wiser is honored to be listed among dozens of other brilliant and innovative companies," said Arie Shpanya, CEO of Wiser. "It's exciting to know we are one step closer to such a prestigious award from Red Herring. We are thrilled to qualify for the final round of the award process, and are eager to recognize the Top 100 winners in the coming weeks."
"The short-list confirms the excellent foresight and strong innovations created by entrepreneurs in North America. By all measures, the remarkable group of companies comprising the Top 100 Short-List underlines the region's constant drive to innovate," said Alex Vieux, publisher and CEO of Red Herring.
The short-listed companies qualify to present their winning technology at the Red Herring North America. The Top 100 winners will be announced during a special awards ceremony on the evening of June 3, 2015.
About Wiser:
Wiser provides a complete suite of solutions to give retailers, brands, and manufacturers the edge to stay both competitive and most importantly, profitable.
Wiser's flagship product is WisePricer, full-featured dynamic pricing and merchandising engine that monitors, analyzes and reprices retail products in real-time. WisePricer enables retailers to boost profit margins and revenue, price with confidence, and improve merchandising through powering the development of a sound pricing strategy.
Wiser also offers a MAP monitoring solution, WiseMapper, for brands and manufacturers to monitor and protect their pricing across the thousands of retailers selling their products.
For more information on Wiser, please visit wiser.com