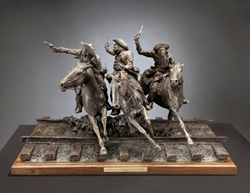 "This historical tale resonated with me, it is a dynamic story that was perfect material for a sculpture. I live in one of the old stomping grounds of the Wild Bunch. My neighborhood of the Four Corners was a known hideout. - Greg Kelsey
Durango, CO (PRWEB) May 27, 2015
Sculptor Greg Kelsey has been honored once again by Briscoe Western Art Museum through the purchase of his bronze sculpture, "Sundance & the Wild Bunch Hit the Union Pacific," is a limited edition bronze sculpture measuring 22" h x 35"l x 25" d. The piece was awarded the Committee's Choice Sculpture Award and the Purchase Award at the Night of Artists show at the Briscoe held March 27, 2015.
Kelsey was inspired to create "Sundance & the Wild Bunch Hit the Union Pacific" due to the infamous nature of the event it depicts: the robbery of a train portrayed in the Hollywood film, Butch Cassidy and the Sundance Kid. Kelsey offered, "This historical tale resonated with me, it is a dynamic story that was perfect material for a sculpture. I live in one of the old stomping grounds of the Wild Bunch. My neighborhood of the Four Corners was a known hideout."
In 2012, another of Kelsey's sculptures, "Walkara-Hawk of the Mountains," was purchased with funds provided by The Jack and Valerie Guenther Foundation.
Kelsey is an active cowboy and artist and his work is reflective of western life styles, traditions and history. Kelsey keeps cattle, horses and a strict studio schedule. Greg and his family reside in Ignacio, Colorado.
Kelsey is represented by Sorrel Sky Gallery. His sculpture can be viewed in both the Santa Fe and Durango gallery locations. His work has won multiple awards, including the Award of Excellence from the American Plains Artists' Show, People's Choice at the CM Russell Art Auction, and Best Sculpture at Quest for the West.
Located in San Antonio, Texas, Briscoe Western Art Museum presents art and artifacts from across the history and cultures of the American West. Over five centuries, from the Spanish conquest to the present day, the collections of the Briscoe tell the story of the West in all its drama.
Sorrel Sky Gallery's fresh approach to Western art presents a select collection of contemporary and traditional fine art and jewelry for the discerning collector. Sorrel Sky Gallery was founded in Durango, CO in 2002 and opened its Santa Fe, NM location in 2014. It represents over 60 painters, sculptors and jewelers including bronze artist Star Liana York, painter Billy Schenck, and former U.S. Senator Ben Nighthorse, among others.