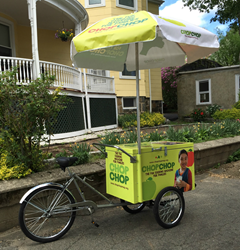 We want to get our message of eating and cooking real food together as a family out in a memorable and fun way
Watertown, MA (PRWEB) May 27, 2015
This summer, ChopChop: The Fun Cooking Magazine for Families will be connecting with local communities at key events in Greater Boston with a custom cargo bike. The ChopChop "TRY-cycle" will be supplied with free copies of ChopChop Magazine, healthy snacks and other giveaways to encourage kids to try new foods and to stay active.
"We want to get our message of eating and cooking real food together as a family out in a memorable and fun way," explains Sally Sampson, Founder of ChopChop. "The ChopChop Try-cycle is the perfect vehicle to do just that. Kids are drawn to this bike, which is colorful and fun. It gives us the perfect opportunity to talk to them about eating healthy and staying active."
In addition to giving away copies of the magazine, ChopChop has partnered with companies such as Cabot Creamery, Backyard Farms and Melissa's Produce to hand out free samples of fresh produce and cheese from the bike. ChopChop will be participating in family-focused events such as family festivals, farmers markets and school events throughout the summer. To learn more about the bike and scheduled events, please follow us on Facebook and Twitter. For sponsorship inquiries, contact info(AT)chopchopmag.org.
About ChopChop
Endorsed by the American Academy of Pediatrics, ChopChop: The Fun Cooking Magazine for Families, is a nonprofit quarterly food magazine. Published by ChopChopKids, Inc, a 501(c)(3), ChopChop's mission is to inspire and teach kids to cook and eat real food with their families. Its vision is to reduce and prevent childhood obesity. ChopChop was named the 2013 Publication of the Year by the culinary industry's James Beard Foundation, and is the only non-profit publication to win the award. ChopChop is also the recipient of a prestigious gold award from the Parents' Choice Foundation, the nation's oldest nonprofit guide to quality children's media and toys. ChopChop is supported by founding partner New Balance Foundation, along with funding from hospitals, foundations, donors, and individual subscriptions. To learn more about ChopChop's mission, and to support the organization by subscribing to ChopChop Magazine or by donating to its cause, please visit http://www.chopchopmag.org. Follow ChopChop on Twitter at @ChopChopMag, on Facebook at facebook.com/ChopChopMagazine or on Pinterest at pinterest/ChopChopMag.