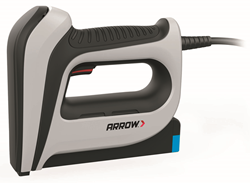 Whether you do the occasional DIY job, or you're a pro, there's an Arrow® Electric Stapler just right for you.
Saddle Brook, NJ (PRWEB) June 24, 2015
Arrow Fastener Company introduces a new generation of electric staplers powered by new Spiral Drive™ technology with a unique motor drive that provides consistent performance with every shot.
Arrow's introduction of a motor driven design, a design that uses a motor to drive the knife of the tool, allows for consistent performance with less reliance on outside power sources. This provides an effective, reliable alternative to manual guns or pneumatic tools that require hose and compressor configurations.
"Our new electrics deliver consistent performance and power in every shot and also offer innovative lightweight designs that provide a real alternative to manual tools," says Angela Cunningham, product manager, Arrow Fastener Company. Arrow's new electric staplers are easy to handle. "They're surprisingly balanced and ergonomically designed to fit comfortably in the hand," adds Cunningham.
The first of this new innovative line which features Spiral Drive™ technology is the DIY-friendly T50ACD™ Corded Electric Stapler. The tool uses T50™ staples up to ½" for all general purpose projects. The lightweight design makes it ideal for all day use and its easy load magazine allows for quick and easy staple reloading.
The T50AC™ Corded Electric Stapler and Brad Nailer for the pro customer also offers Spiral Drive™ technology for consistent, powerful driving power. The tool fires T50™ staples up to 9/16" and 5/8" brad nails. It features a low indicator light that blinks when it's time to reload the tool, an LED working light to illuminate the workspace and an easy access magazine for quick reloading. Ideal for professional applications when a high performance stapler and brad nailer is required, it will be available in the fall. Additional tools also will be added to the lineup.
"Whether you do the occasional DIY job, or you're a pro, there's an Arrow® Electric Stapler just right for you with a choice of corded and cordless versions," says Cunningham. "We've also engineered our cordless staplers to give you more shots per charge. Customers will ultimately find Arrow's tools simpler to use yet more effective in completing projects."
Building on the success of the flagship heavy duty T50® staple gun, Arrow now offers a full range of project solutions, including a line of electric and manual staple guns and brad nail guns as well as rivet tools, glue guns, and hammer tackers and a full line of glue sticks, staples and fasteners to match. It has led the industry in innovation, style and functionality for more than 80 years, with cutting-edge tools that get the job done, and have helped to make Arrow products an ideal solution for novice to pro.
Arrow was founded in 1929 by Morris Abrams and remained a family owned business until it was acquired in 1999 by Masco Corporation, a Fortune 500 leading manufacturer of home improvement products. For information, visit http://www.arrowfastener.com.
###
About Arrow Fastener Company
Arrow Fastener Company, LLC is a leading manufacturer of manual and electric staple and nail guns, glue and rivet tools which are sold to consumers and commercial contractors, primarily through home centers, mass merchants and specialized retailers. Founded in 1929, Arrow Fastener was acquired by Masco Corporation (NYSE: MAS) in 1999. For more than five decades, the T50® staple gun has been the industry standard, as the world's best-selling staple gun. Today, Arrow Fastener is a trusted supplier of reliable, innovative and affordable products for the building trade professional and do-it-yourselfer. For more information, visit http://www.arrowfastener.com.
About Masco Corporation
Masco Corporation (NYSE: MAS), parent company of Arrow Fastener, is one of the world's largest manufacturers of brand-name consumer products for the home and family, including Behr® paint, Delta® and Hansgrohe® faucets, bath and shower fixtures, KraftMaid® and Merillat® cabinets, and Milgard® windows and doors. Masco is also a leading provider of services that include the installation of insulation and other building products through Masco Contractor Services and Masco Home Services. Visit http://www.masco.com for more information on the Masco family of brands.