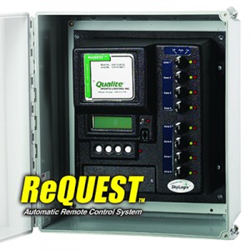 Hillsdale, MI (PRWEB) May 27, 2015
Addison is a growing school district near Corning, NY, serving 1,279 students in one Pre-K-6 Elementary School, one Pre-K Early Childhood School and one 7-12 Middle-Senior High School.
In December 2012, voters approved a $22,985,000 capital project which includes: a two-story addition at the Middle-Senior High School that will include classrooms equipped for STEM and 21st century learning; a new gymnasium; site improvements for safer bus loading, drop-off and parking at Tuscarora Elementary; and infrastructure upgrades along with expansion and improvements to the athletic complex at Tuscarora to be used by students and the community.
Addison Central School District chose Qualite Sports Lighting of Hillsdale, MI, to provide stadium lighting to expand the usage and maintain energy efficiency through its pre-aimed, pre-wired lighting systems. This was a Qualite specification with pole mounted Inverters, a ReQuest Remote Controls & Monitoring System, and an extended warranty. The project was designed by Cannon Design, based in Grand Island, NY.
About Qualite Sports Lighting
Qualite has been the sports lighting partner for high schools, colleges, parks and recreation departments, and minor and major league sport franchises for over 30 years. In addition, Qualite has partnered with Ephesus Lighting to provide the highest quality LED technology for sports facilities, including the host stadium to the 2015 Super Bowl, The University of Phoenix in Glendale, AZ. Qualite's Q-LED system is the most energy-efficient, highest Lumen output LED lighting solution in the sports lighting industry.