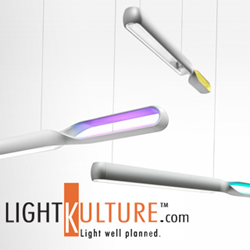 Infinito is a motion sensor LED pendant that combines both brightness and color of light through motion detection.
New York, NY (PRWEB) June 10, 2015
LightKulture.com is pleased to present Infinito by QisDesign, innovation that casts light in a whole new direction. "For years our buyers have been consistently attending The International Contemporary Furniture Fair in New York, looking for trends and innovation in contemporary design" noted Susan Inderbinen President of LightKutlure.com. For 2015, there were many home and hospitality manufacturers at the exhibit from all over the world. ICFF and events throughout New York City, showcase creative works by established brands, as well as the next generation of design genius working to be discovered. Without question, the stand-out lighting product introduction, incorporating functionality and innovation with contemporary style and LED efficiency, goes to Inifinito by QisDesign, Infinito is a motion sensor LED pendant that combines both brightness and color of light through motion detection.
QisDesign offers Infinito, the intersection of day and night. By combining 2700K white LED for task lighting on one side of the fixture, with ambient color changing RGB LED on the other, this dimmable, motion detection fixture is in a class by itself. Inspired by the symbol of infinity, the designers explored the nature of light through a simple twist design. The brightness and RGB color of the light can easily be adjusted and set, through hand movement in the proximity of the fixture. The aluminum polycarbonate structure changes shape seamlessly from task lighting below the fixture, to color changing ambient lighting, which can be set to one color, or set to gradually change color as desired.
For more information go to:
http://www.lightkulture.com/infinito-led-suspension-lamp-qisdesign/
Infinito LED Suspension Fixture by QisDesign Debuts Outstanding Innovation at ICFF New York, Now Available at LightKulture.com
"At every trade show my team and I attend, there is never a shortage of new lighting introductions. The challenge is to partner with reliable brands that offer lasting style and innovation at a value that customers can relate to. We think we have found the right combination for Fall 2015 by continuing to partner with QisDesign. Our merchandising team is very excited about the QisDesign Infinito. Infinito is one of the most revolutionary, fun and functional designs available today. Based on the infinity symbol, the pendant offers many variations of light level, both task and ambient, white and color changing, all in one. It is really quite revolutionary in terms of lighting design and functionality. Your hand is the dimmer switch, since the fixture is controlled by motion sensor, no additional dimming controls need to be purchased, wired or installed. Quantities are limited this summer. However, we are taking pre-orders now for October delivery. Add some exciting light to your life", noted Susan.
About LightKulture.com
At LightKulture.com, our mission is to offer the finest energy efficient contemporary lighting and light fixtures from around the world. We have assembled an exciting collection of the industry's most innovative decorative and architectural lighting.We are proud to offer lighting solutions for both your home and work-life environments. Simplicity is design is complicated, function makes it last. Be inspired by our range of essential designs from well respected American and European manufacturers. In today's world, energy efficient lighting is as important as eco-friendly or green lighting fixtures, such as LED or CFL lighting. We offer the very best energy efficient lighting and light fixtures, both high value LED lighting fixtures and CFL lighting fixtures in modern and contemporary styles that provide quality, innovation and authenticity.
LightKulture
http://www.lightkulture.com/
Email. sales(at)lightkulture(dot)com
Tel. 941-330-0422