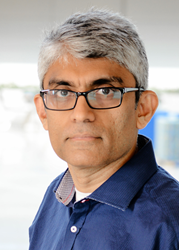 San Francisco, Calif. (PRWEB) May 27, 2015
Cornerstone Research, a leading provider of economic and financial consulting and expert testimony, announced today that Professors Pradeep K. Chintagunta of the University of Chicago and Ronald T. Wilcox of the University of Virginia have affiliated with the firm.
"Both Pradeep and Ron are distinguished authorities in the field of marketing," said Cornerstone Research President and CEO Michael E. Burton. "Pradeep brings to our clients his thorough knowledge of household purchase behavior, and the marketing of pharmaceutical and technology products. Ron contributes his deep expertise on marketing analytics and the marketing of financial services."
Pradeep K. Chintagunta is the Joseph T. and Bernice S. Lewis Distinguished Service Professor of Marketing at the Booth School of Business of the University of Chicago. Professor Chintagunta is an expert on pharmaceutical markets, technology products, and consumer packaged goods. His earlier work used scanner panel data to analyze how firms' marketing activities affect household purchase behavior. He has also researched the impact of information on drug adoption and diffusion, physicians' prescribing behavior, and the different ways in which medical practitioners respond to marketing activities.
Professor Chintagunta has received multiple awards for excellence in teaching, and Businessweek named him one of the Booth School of Business's top professors. Prior to his appointment at the University of Chicago, he was an associate professor at the Graduate School of Management at Cornell University. Professor Chintagunta is on the advisory editorial board of Marketing Science and is the coordinating editor of Quantitative Marketing and Economics. He has authored or coauthored more than 100 scholarly papers, and his research has appeared in numerous publications, including the Journal of Marketing Research, Marketing Science, and Management Science.
Ronald T. Wilcox is the NewMarket Corporation Professor of Business Administration and the
associate dean of the MBA for Executives program at the Darden School of Business of the University of Virginia. Professor Wilcox is an expert in marketing research, customer relationship management, marketing financial services, and branding. His experience covers marketing analytics, consumer choice, conjoint analysis, and retailing. He has testified at trial on issues related to branding in an intellectual property valuation case and submitted reports on damages in a case involving a dispute with an advertising agency.
Professor Wilcox formerly served as an economist at the U.S. Securities and Exchange Commission. His research has been cited in the Wall Street Journal, the Washington Post, and Businessweek. Professor Wilcox is a frequent contributor to Forbes and the author of Whatever Happened to Thrift? Why Americans Don't Save and What to Do about It, published by Yale University Press. He also coauthored Cutting-Edge Marketing Analytics: Real World Cases and Data Sets for Hands On Learning, on the use of customer data to improve marketing decisions, published by FT Press.
About Cornerstone Research
Cornerstone Research provides economic and financial consulting and expert testimony in all phases of complex litigation and regulatory proceedings. The firm works with an extensive network of prominent faculty and industry practitioners to identify the best-qualified expert for each assignment. Cornerstone Research has earned a reputation for consistent high quality and effectiveness by delivering rigorous, state-of-the-art analysis for over 25 years. The firm has more than 500 staff and offices in Boston, Chicago, London, Los Angeles, Menlo Park, New York, San Francisco, and Washington.
Please visit Cornerstone Research's website for more information about the firm's capabilities in economic and financial consulting and expert testimony.
Twitter at @Cornerstone_Res