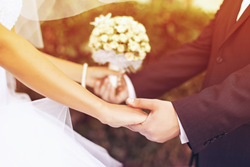 A down payment registry helps couples speed up the home buying process
Chicago, IL (PRWEB) May 27, 2015
While couples getting married have the option to put appliances to fill their household on their registry, they could think bigger and register for a house. The Federal Savings Bank knows that having enough money for a down payment is one of the biggest obstacles for people. A down payment registry could help newly married couples who are also first-time home buyers.
The following are tips on why married couples should register for a home down payment:
Find multiple funding sources
Crowdfunding has become a big industry, with people having the option to fund their honeymoon or other "wants" with the generosity of others. Rather than spending money from loved ones on a honeymoon, couples could start their newly married life in a house through a crowdfunded registry.
Know the benefits
Houses last longer than regular appliances. By registering for a down payment for a new home, couples could purchase a gift that could last a lifetime.
A home is a good investment. Compared to a toaster or blender that may gather dust on the kitchen counter or break unexpectedly, a house is the better investment.
Help couples in debt. A down payment registry helps couples speed up the home buying process, especially if they have debt that prevents them from saving.
Know the options
There are several options for people to sign up for down payment registries. It is free to register for down payment gifts at sites like Downpaymentdreams.com using a PayPal business account. Downpaymentdreams.com will keep 1 percent of the money couples receive on the registry, according to the site's frequently asked questions page.
The registry page features a countdown to accept gifts and the amount raised compared to the down payment goal.
Newly married couples can contact The Federal Savings Bank, a veteran owned bank, to learn more about a low rate mortgage for their home.