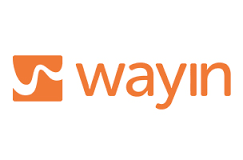 Denver, CO (PRWEB) May 27, 2015
Former Sun Microsystems CEO Scott McNealy publicly announced today that he is now CEO of Wayin, the Denver-based social media intelligence and marketing software company that he co-founded.
Wayin has focused heavily in the last two years on the development of social intelligence-powered marketing solutions to fill the gap in the underserved markets of brands and media companies, which has set the stage for its next phase of rapid growth. McNealy's experience in leading aggressive expansion for one of the world's most renowned enterprise technology companies, combined with his role as Wayin's Chairman of the Board, makes him the ideal leader for Wayin's next phase of growth and scale.
"As Wayin expands its capabilities into the real-time marketing space, heading the company is like riding a bicycle. The road ahead feels very familiar. It's one full of change, consolidation, innovation, financing, and proving ROI," said McNealy. "I'm excited to disrupt the market and finally make social a valuable business driver for the enterprise," said McNealy. "Obviously, I will be cutting back on my caddy obligations to my four golfing sons."
The early days of the computer industry parallel many characteristics and dynamics of the new digital marketing age. McNealy led the Sun Microsystems advancement from SunOX to Solaris operating system, similar to Wayin's recent evolution from stand-alone visual technology to a solution (Discovery) for integrated marketing experiences. And as the social marketing technology industry undergoes a period of consolidation, McNealy's experience with similar market conditions during his tenure at Sun makes him the ideal leader, at the ideal time, for the company.
"Social marketing technology companies should be embarrassed of their over-promised but underserved delivery to the market. The disservice in selling the vapor of 'social for social sake' continues to distract from a focus on actual business results," said McNealy. "I'm committed to what should have been the mandate all along: marketers need to show measurable business results, and social marketing technology should prove an ROI strong enough to sell into a CEO. None of these hyped technology companies can do that, and I am here to make the change."
Wayin integrates with public Twitter, Instagram and Facebook content to give marketers and media outlets powerful tools to discover, understand and act upon social media insights to persuade real-time customer and audience action in meaningful ways to drive business.
About Wayin
Wayin is a social media intelligence and marketing software company that offers solutions to surface the best social trends and content to persuade action and drive marketing results. Wayin gives brands control over their social data to create real-time experiences for consumers that foster trust and drive action.
Co-founded by Scott McNealy, the former Sun Microsystems CEO and co-founder, Wayin is led by key Sun Microsystems alumni, as well as top digital and media industry veterans. Wayin is based in Denver with offices in New York, San Francisco, Los Angeles, Atlanta, Japan, Argentina, Brazil and Hong Kong. http://www.wayin.com, @wayin