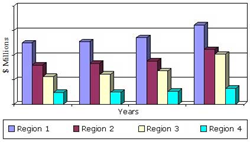 The global market for cell culture products will grow from nearly $3.2 billion in 2014 to nearly $4.1 billion by 2019
(PRWEB) May 27, 2015
Wellesley, Mass., May 27, 2015 – The market for cell culture products is undergoing growth due to greater demand for biopharmaceuticals, expanding research and development budgets, and growing supportive government policies. BCC Research reveals in its new report that the global market for cell culture products will grow from nearly $3.2 billion in 2014 to nearly $4.1 billion by 2019, with a compound annual growth rate (CAGR) of 5.1% between 2014 and 2019.
The increasing prevalence of chronic diseases such as cancer, diabetes, autoimmune diseases and various infective diseases are key drivers of the market. As competition increases and new technologies emerge, new advancements and product launches should bolster market growth during the forecast period.
The U.S. remains the largest market comprising the three main products analyzed in the report—sera, media and reagents. The U.S. market totaled almost $1.3 billion in 2013 and should reach $1.6 billion in 2019, with a CAGR of 3.6%.
"The U.S. market, the world's largest free-pricing market for pharmaceuticals, has a favorable patent and regulatory environment; therefore, success of a product is largely based on competition in product quality, safety, and efficacy and price," says BCC Research analyst Shalini S. Dewan. "Support from the government for medical research, an unparalleled scientific and research base, and an innovative biotechnology sector are the major factors that make the U.S. market the preferred home for growth in the healthcare industry—which also includes biotechnology."
Global Markets for Media, Sera and Reagents in Biotechnology (BIO014H) examines the cell culture products industry, applications in production, regulatory aspects, developments in cell culture techniques, and patent analysis and growth and restriction factors for the market.
Editors and reporters who wish to speak with the analyst should contact Steven Cumming at steven.cumming@bccresearch.com.
About BCC Research
BCC Research publishes market research reports that make organizations worldwide more profitable with intelligence that drives smart business decisions. These reports cover today's major industrial and technology sectors, including emerging markets. For more than 40 years we've helped customers identify new market opportunities with accurate and reliable data and insight, including market sizing, forecasting, industry overviews, and identification of significant trends and key market participants. We partner with analysts who are experts in specific areas of industry and technology, providing unbiased measurements and assessments of global markets. Recently selected as the world's greatest market research company, BCC Research is a unit of Eli Global, LLC. Visit our website at http://www.bccresearch.com. Contact us: (+1) 781-489-7301 (U.S. Eastern Time), or email information@bccresearch.com.