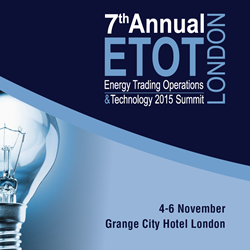 It's an IRN Summit!
London (PRWEB UK) 27 May 2015
From 7th October, the reporting obligation will become effective for standard physical power and gas orders and transactions, and market participants will be obliged to either report directly or through delegated reporting to ACER in an accurate and timely manner. The 7th Energy Trading Operations & Technology 2015 Summit, taking place on 4-6 November at the Grange City Hotel in London, will provide the latest developments around REMIT, MiFID and EMIR, and look closely into how IT and Operations teams are working together on regulatory implementation, through case studies from some of the key energy trading organisations across Europe.
Elena Cretti, Head of Back Office at Edison, will lead one of the case studies during ETOT on REMIT implementation and lessons learnt from both EMIR reporting and REMIT's first phase. The industry will also hear feedback on transaction reporting under both EMIR and REMIT provided by trading houses and trade repositories. Speakers from RWE Supply & Trading, Centrica, Alpiq and REGIS-TR, amongst others, will gather on a panel discussion to analyse both regulations and their reporting requirements.
ETOT 2015 is the seventh Summit organised by IRN following six successful editions since 2009, where each year over a 170 CIOs, COOs, Heads of Back office, IT Managers, Operations Managers from leading energy companies such as E.ON, Gazprom, GDF Suez, Endesa, RWE, OMV, Vattenfall, Axpo and many others, have met to discuss regulatory requirements, collateral management, the clearing landscape, the rise of complex products and the consequent implications on processes and technology, trade surveillance, and much more.
This edition of ETOT is sponsored by the management consultancy, Baringa; the central trade repository, REGIS-TR; the K3 integration platform specialist, BroadPeak; and the multi-market commodity software solution provider, Allegro. The Summit is also endorsed by EFET.
More information about this Summit is available on the website: http://www.etotsummit.com.