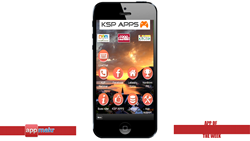 Kjollefjord Info is a shining example of how anyone can easily make an app themselves today without any technical knowledge.
New York, NY (PRWEB) June 21, 2015
AppMakr, a leading DIY mobile app builder, today announced that the Kjollefjord Info is the company's "App Of The Week" for May 17th - 23rd.
Each week, AppMakr features one app from the thousands published using our app building tool, called The Machine. This app was selected because it demonstrates the quality of content, design and relevancy that mobile apps can bring to groups trying to make a difference in their community.
With more than 1 billion smartphones now active in the world, and 84% of those users spending at least 1 hour each day on their smartphones, the base potential of mobile users for the Kjollefjord Info app is massive and growing quickly by the day. It was this potential that motivated AppMakr to create an easy drag-and-drop app builder platform that enables anyone to create an app like the Kjollefjord Info without the knowledge of coding.
The Kjollefjord Info and thousands of small to large businesses, schools, blogs, sports teams and community groups have selected the AppMakr app builder platform to create and launch their mobile app for Android, iPhone and over 5,000 different models of HTML5 compatible smartphones.
In a recent interview about building the Kjollefjord Info app, Kenneth Pedersen, developer and owner of the app, told AppMakr the following about their experience entering the app economy:
AppMakr: "What motivated you to go mobile?"
Kenneth: "Its fun and easy, at least if you use AppMakr."
AppMakr: "How did you find AppMakr?"
Kenneth: "Found it on YouTube after I spent a few days getting info on how to make apps in Android or Apple and out of the blue, I found your videos."
AppMakr: "What impact do you think the app will have on your community?"
Kenneth: "I made this app mainly for myself since I never remember when the stores open and close and having the bus schedules helps a lot."
To create your own mobile app, and have a chance at being named App Of The Week, go to http://www.appmakr.com/ and get started today.
About AppMakr
AppMakr is the largest DIY mobile app creation platform in the world providing a range of affordable marketing solutions to all small businesses, schools, community groups and individuals. By servicing the long-tail of niche interests with low-cost apps, AppMakr has become the largest DIY publisher of mobile apps in the world. The platform creates true native iPhone and Android mobile apps, as well as HTML5 mobile websites compatible with thousands of smartphone models, available in 15 languages for as little as $1/month, with hundreds of ways to customize your new mobile app. Functions include: Social Feeds, Live Video Streaming, Live Chat Rooms and the ability to secure apps through private access and content filters. AppMakr is the easiest way to mobilize your business, blog or community group.
To learn more about how AppMakr is transforming the mobile app economy, please visit http://www.appmakr.com and follow https://www.facebook.com/AppMakr on Facebook as well as @AppMakr on Twitter.
About Kjollefjord Info
Kjollefjord Info is a mobile app designed to share information and news about Kjøllefjord, the administrative centre of the Lebesby Municipality in Finnmark county, Norway. The village is located on the northwestern part of the Nordkinn Peninsula, on the shore of a small fjord which empties into the larger Laksefjorden.
To download the Kjollefjord Info app for your mobile phone, go to: http://apps.monk.ee/kjollefjord
To learn more about Kjollefjord, please visit: https://www.facebook.com/pages/Kj%C3%B8llefjord/598456276846720?sk=timeline