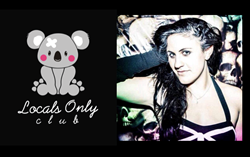 When I first founded the Locals Only Club, it was to connect the fashionable and trendy with the hard-to-find unique styles that reflect their true personality.
Los Angeles, CA (PRWEB) June 01, 2015
Native New Yorker and fashion junkie, Danielle Miller launches the epic online-only festival fashion boutique and lifestyle blog, the Locals Only Club. The boutique features a highly curated selection of edgy statement styles as well as the latest in rad and rare designs for festival goers. Now that festival fashion has been sweeping the nation as of late, Miller has finally created a one-stop shop for unique festival fashion needs.
The online boutique, LocalsOnly.club, allows customers to request an invite to become a member of the Club. Once registered, customers will receive jaw-dropping deals on festival fashions and invitations to some of the most exclusive and out-of-the-norm, must-attend events and activities such as the upcoming Gumball 3000 Rally and the Electric Daisy Carnival in Las Vegas. With music festivals popping up all over the world throughout the year, festival goers won't have to look far to get the dopest festival outfits for the occasion. The Locals Only Club always knows what customers are looking for, even before they know what they're looking for.
"When I first founded the Locals Only Club, it was meant to connect the fashionable and trendy with the hard-to-find unique styles that reflect their true personality," said Danielle Miller, owner. "It has now evolved into the place to visit for festival fashion suggestions and information on upcoming events where you can strut your style."
Miller is a long-time entrepreneur who began in her journey into the fashion industry when she was just 16 years old. That's when she co-established a charitable organization called Fashion Forward. Miller's actions to co-organize fundraising fashion shows generated over $40,000 each show in an effort to support Maru-A-Pula, a boarding school located in Botswana, Africa, for children orphaned by AIDS victims.
Almost a decade later, after launching the Locals Only Club, she stays true to her philanthropic roots in her support of Miley Cyrus' Happy Hippies Foundation. "We are pleased to give at least 5% of our annual profits to this worthy non-profit," said Miller. "By supporting the efforts of Happy Hippies, together, we'll help make a difference in the lives of young people as we share their mission to fight injustices that homeless youth face, LGBT youth, and other vulnerable populations," she explained.
About Danielle Miller:
Coupled with her big heart, it is clear that Miller has always had an eye for the latest in festival fashion trends; however, what sets her apart is her passion for those who express themselves through design. It is refreshing to experience a boutique that is solely focused on its lifestyle image and the fine-tuning of their shopping selections. Miller continually seeks out ways to give back to the community through her endeavors and she seems to always be making a positive impact in the lives of youths.
Visit the Locals Only Club for the latest trends, must-attend events, more information, and to sign up as a club member.
For more information on Happy Hippies Foundation, visit happyhippies.org.