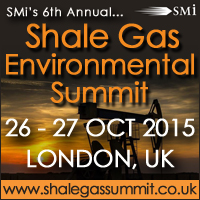 London, UK (PRWEB UK) 28 May 2015
The process of fracking was temporarily banned in the UK back in 2011, after a test well caused a minor earthquake near Blackpool. Now that the ban has been lifted, the government has shown its support towards beginning exploratory drilling (The Guardian, 2015).
With the concept of exploratory drilling being highly topical in the current market, SMi is delighted to have Professor Michael Bradshaw, Professor of Global Energy at Warwick Business School, giving a keynote address at the 6th Annual Shale Gas Environmental Summit taking place on 26-27 October in London, UK.
His unique talk will discuss the topic of exploratory drilling in the UK and look at what the current debate is based on. Furthermore, his knowledge and expertise will allow him to answer questions on what exploratory drilling will be able to tell us and how it can be done in an environmentally conscious way.
This conference will provide a balanced view of all sides of the debate surrounding the highly topical issue of shale gas. Speakers will range from the political and regulatory to land owners and NGOs and campaigners. This unique conference will also discuss the fledgling industry in Europe and will take a look at current EU regulations on shale gas.
To view the full programme or to download a brochure visit http://www.shalegassummit.co.uk/prweb
CONFERENCE HIGHLIGHTS:

Gain a balanced insight and understanding of the science behind the environmental debate on shale gas
Assess the risks shale gas poses to health and human rights
Learn about the landscape of the shale gas industry and gain insight into the regulatory developments in Europe and Britain
Analyse the difficulties surrounding planning applications
Debate the possibility of earthquakes and contaminated water
Discuss how waste water can best be appropriately disposed of
KEY SPEAKERS AND EXPERTS INCLUDE:

Julian O'Halloran, Journalist, BBC
Professor Michael Bradshaw, Professor of Global Energy, Warwick Business School
Professor Nigel Brandon, BG Chair in Sustainable Gas, Imperial College London & Panel
Member, Task Force on Shale Gas

Mike Holgate, Associate, Aquateria Ltd
Tim Yeo, Chair of Energy and Climate Change Committee, House of Commons
Dr. Jonathan Scurlock, Chief Advisor, Renewable Energy and Climate Change, National Farmer's Union
Register before May 29th to save £400. Group discounts are currently available.
For more information or to register for this conference please visit http://www.shalegassummit.co.uk/prweb
To register or to sponsor this conference
Please contact Andrew Gibbons on +44 (0) 207 827 6156 or agibbons(at)smi-online(dot)co(dot)uk
PLUS TWO INTERACTIVE POST-CONFERENCE WORKSHOPS:
Shale Gas: Stakeholder Engagement - Winning the Societal License to Operate
Workshop Leader: Michael Holgate, Energy Consultant, Aquatera
8.30am-12.30pm
The Shale Gas Industry in Germany and Europe - Legal Frameworks and Gaps
Workshop Leader: Andy Gheorghiu, Campaigner & Consultant, Andy Gheorghiu Consulting
1.30pm - 5.30pm
-------------------------- END --------------------------
About SMi Group:
Established since 1993, the SMi Group is a global event-production company that specializes in Business-to-Business Conferences, Workshops, Masterclasses and online Communities. We create and deliver events in the Defence, Security, Energy, Utilities, Finance and Pharmaceutical industries. We pride ourselves on having access to the world's most forward thinking opinion leaders and visionaries, allowing us to bring our communities together to Learn, Engage, Share and Network. More information can be found at http://www.smi-online.co.uk