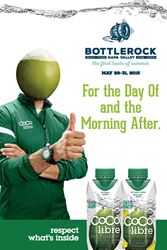 Mountain View, CA (PRWEB) May 27, 2015
Coco Libre announced today that artists and audiences at BottleRock Napa Valley will be able to reach for Organic Coconut Water to quench their thirst during the festival May 29-31, 2015. Coco Libre will be available at VIP areas, artist greenrooms, corporate skyboxes and concessions areas at the venue. It will also be available at area hotels and on festival shuttle buses.
"We're excited to have Coco Libre as a partner this year," said Noa Elan, Director of Strategic Partnerships for Latitude 38 Entertainment, producer of the event. "Their Organic Coconut Water will be a perfect option for our BottleRock festival-goers, artists and VIPs who are looking to stay hydrated while they enjoy some amazing music, wine and a Napa Valley epicurean adventure."
Coco Libre will also be available on the shuttle buses taking festival-goers to and from the BottleRock venue, as well as at sampling stations at venue exits and parking lots. Area hotels that will make Coco Libre available include Marriott Napa, Randolph, Embassy Suites Napa, Napa Winery Inn and Hotel Yountville.
Event sponsor Whole Foods Market Napa and Kind Healthy Snacks are also joined in the effort. "We're all companies that deliver on 'delicious and nutritious,'" said John Campbell, Coco Libre Marketing Director. "Partnering with Whole Foods Market Napa and Kind Healthy Snacks amplifies the good we can bring to everyone at BottleRock."
Michelle Dickey, Marketing Manager at Whole Foods Market Napa said, "Partnering with Coco Libre at BottleRock Napa is a perfect example of one of our core values: Creating ongoing win-win partnerships with our suppliers. We're proud to do it."
Organizers expect an attendance of more than 60,000 people over three days, drawn by a slate of more than 70 bands including Imagine Dragons, No Doubt, Robert Plant, Snoop Dogg and Foster the People.
ABOUT BOTTLEROCK NAPA VALLEY
The third annual BottleRock Napa Valley festival at the Napa Valley Expo in Downtown Napa, brings the world's top touring artists on four different stages, while master sommeliers and celebrity chefs rub shoulders with guests in an intimate festival setting. Dozens of the region's finest restaurateurs, vintners and brewers offer the best in food, wine, and craft brews, to create an authentic wine country experience for festival guests. For more information visit BottleRockNapa.com or follow @BottleRockNapa and #BottleRock2015.
ABOUT COCO LIBRE
Coco Libre's flagship Organic Coconut Water is the nutritional foundation for a growing family of purposeful beverages. Coco Libre Protein was a finalist for Best New Product Line Extension at the World Beverage Innovation Awards 2014. Coco Libre beverages can be found in grocery, specialty and natural foods retailers in the U.S. and Canada. To learn more visit http://www.cocolibreorganic.com, Facebook.com/CocoLibre, twitter.com/CocoLibre and Instagram @CocoLibre. Liberate your thirst.™
Media contact: Celina Simms – celina(at)maverickbrands(dot)com, (650) 739-0555