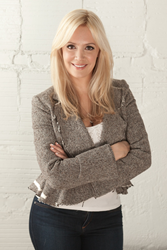 There is no downtime, and it makes you look very natural and youthful
(PRWEB) May 27, 2015
Gravity and volume loss in the skin have met its match in non-invasive applications. Skin Management Expert™, Holly CaSaroll, is excited to introduce a custom menu of non-invasive treatments to lift and re-volumize the mid face, without surgical intervention, and without downtime.
"We now use a combination approach with Ultherapy, a FDA approved procedure that can lift skin using focused ultrasound, and combine it with Radiesse +, which is a new more lifting formula than its predecessor Radiesse, to visibly and instantly replace volume loss in the cheek. This gives you back 10-15 years, without a facelift," says CaSaroll. "With the addition of filler for volume, there is no downtime, and it makes the look very natural and youthful, and has instant effects, while waiting the few months for the Ultherapy to kick in. This combination is something that will make people think about what you are doing differently. It doesn't say, "Look at me, I had something done," which is frankly frowned upon in Detroit and though out the Midwest.
Radiesse + lasts over a year, and gives a more sculpted appearance to the cheek than other hyaluronic based fillers. "You always want to lift the face before you fill it, and that is why we are seeing such great results, using the Ultherapy just prior," adds CaSaroll.
About FACE Skincare~Medical~Wellness:
FACE is a multi-award winning beauty and wellness clinic that has been providing successful innovative solutions to skin conditions for over a decade. Founded by skin expert, Holly CaSaroll, FACE offers 24 laser and facial machines, liquid facelifts and body makeovers. Over 17 years ago, CaSaroll rebuilt her own skin, disfigured from cystic acne, and has since created one of the most extensive clinics around. CaSaroll is a go-to skin guru and has been featured on TV and a bevy of publications. She currently pens a monthly column in "My Magazine," titled "Ask the Expert." Their Skin Management Experts ™ specialize in non-invasive therapies using their unique 3D Face Therapy™ approach to healing skin that accelerates results from a cellular level. Her wellness division, headed by Dr. Doug Cutler, a Licensed Naturopathic Physician, finds the root cause of imbalances in the body to create overall well-being from the inside out. To see what FACE can do for you, please visit http://www.facebeautyscience.com/.