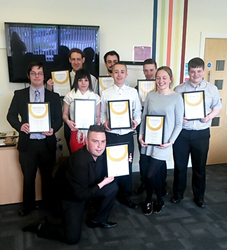 We are delighted with how successful the Traineeship programme has been. Our partnership with Babington Business College enabled us to provide young people in the local area with a promising career in the insurance industry.
(PRWEB UK) 27 May 2015
Last week saw the end of Autonet Insurance's Traineeship programme for eleven successful candidates, and was marked by a celebratory lunch held at their head office in Nile Street, Burslem. All of the Autonet Trainees were in attendance, along with members of Autonet's Learning & Development and HR team who have helped them achieve their newly employed status as apprentices along with Matt Burke from Babington College.
The traineeship was launched back in January and was the first of its kind for Autonet. The programme ran for eighteen weeks and gave eleven trainees aged 16-24 the opportunity to prepare for their future careers within the insurance industry.
Alongside the workplace training provided by Autonet, Babington College provided key skills development and recognised Maths & English qualifications. Funded by the government through Babington College, the traineeship has been delivered by Autonet's Learning & Development team and was overseen by head of department, Karen Hancox-Barringer who told us "91% of the trainees have achieved employment following the Traineeship, 82% of them with Autonet. We are extremely proud of this group of young people and their success to date. We are all excited to continue on this journey with them as they progress within the insurance industry."
The trainees who are now employed by Autonet will embark upon a 12 month apprenticeship scheme within their given roles, some in audit, some in sales and one in an admin based role. They will be undertaking relevant NVQ's within the 12 months with a view to them working towards their financial services qualifications and their IF1 certificate in insurance.
Ian Donaldson Managing Director of Autonet Insurance said: "We are delighted with how successful the Traineeship programme has been. Our partnership with Babington Business College enabled us to provide young people in the local area with a promising career in the insurance industry. Unlike other programs our traineeship offered individuals the opportunity to progress onto the apprenticeship and gain a permanent role here at Autonet."