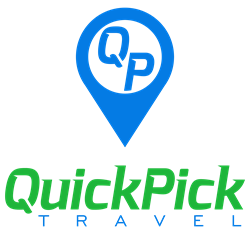 Consumers had traded quality for convenience.
Toledo, OH (PRWEB) May 29, 2015
Today's travel consumers have developed a "book-it-yourself" mentality. Used to going online and searching for hotels, flights, and even excursions, they've been trained by online travel websites to scour through hundreds of results and make choices for their vacations based, typically, on price alone. The convenience of booking travel from the comfort of home and during off hours, compels travelers to use online sources despite the time-consuming, often confusing process of creating a vacation itinerary without the insider expertise of a travel agent.
As the trend began, agencies across the U.S. started seeing their books of business dwindle and felt unable to compete with the online giants of travel. They took another hit in 2013 when the topic of agent relevancy went viral in the media, touting agents as a dying breed. (Read about the backlash here)
In 2014, the people behind the concept of QuickPick Travel sought to offer a unique online booking option to travelers that met their demand for convenience while also introducing them to the concierge benefits of a travel agent throughout the process and, in doing so, reinvigorating the travel agent industry.
"Consumers had traded quality for convenience," TC Clements, President and CEO of QuickPick Travel explains, "and not only was it leaving them with lackluster vacations, it was putting travel agents out of business."
As a travel agent himself, Clements knew firsthand the misconceptions of consumers regarding travel agencies. And he recognized a huge gap in awareness; travelers were in the dark. So, with business partners David Freed and Pamela Terhune, Clements developed a business model that would create a paradigm shift for agents making them relevant again.
"We knew we needed to go where the consumer was comfortable (online), and we knew we needed to be subtle in our approach," states Clements. "QuickPick Travel became the Trojan Horse that, in essence, brought travel agents back in front of consumers before the consumer even knew what was happening. And they've been very happy with the results."
The website, which went live in February 2015, allows consumers to book travel online, but with the guidance of a travel specialist. Once requesting an itinerary, a limit of 3 agents can submit a travel quote to the consumer to gain their business. This gives the consumer choices, without bombarding them, while minimizing competition among agents. Agents stay autonomous and continue representing their own agency, with their own service style and processes. Once a traveler books with them, they've gained a client for their own books; not QuickPick Travel.
The subscription service offered to agents is so low-cost that the majority of agents report it having paid for itself after only 1 or 2 bookings.
"The point is to help agents get back in front of people ready to travel, to give agencies a fighting chance against the online travel giants, and to give consumers that affordable, customized 'vacation of a lifetime' they'd likely never be able to fully plan on their own."
In this Trojan Horse scenario, everyone wins. Readers are encouraged to visit http://www.quickpicktravel.com to learn more about the program. Agents can request information by emailing agents(at)quickpicktravel(dot)com