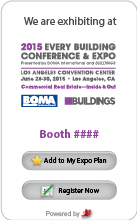 Columbia, MD (PRWEB) June 01, 2015
a2z, Inc., the Maryland-based event management solutions company, is pleased to announce that the Building Owners and Managers Association (BOMA) is providing the a2z-powered ChirpE eBooth Promotion Widget to exhibitors at the 2015 Every Building Conference & Expo in San Francisco.
This is the third year in a row that BOMA is leveraging this plug-and-play widget to promote the event directly to the exhibitors' website visitors.
This powerful utility gives exhibitors an opportunity to get a head start on meeting or even exceeding their expo goals before the event starts.
BOMA's Every Building Conference & Expo is a three-day expo and educational conference designed for commercial real estate professionals to learn new best practices, and to learn from industry experts and top achievers. At the conference, BOMA seeks to give attendees a career-advancing opportunity by delivering an unmatched combination of information, expertise, and industry connections.
This eBooth Promotion Widget requires no previous coding or design knowledge, and can be easily embedded anywhere into an exhibitors business website, blog, or e-newsletter. Once it's placed in a prominent location, the widget allows web visitors immediate access to the exhibitor's eBooth information including company contact info, product offerings, and an exhibitor's physical booth location on the BOMA show floor. Web visitors can also add exhibitors to their favorites to their personalized planners, and register for the event with a single click.
Last year, exhibitors who leveraged the Every Building Conference & Expo eBooth Promotion Widget received an average of 445 widget views, and obtained 5-6 genuine leads before the show started. Thanks to the dynamic features of the eBooth Promotion Widget, exhibitors are able to take an active role in acquiring a positive ROI at the event.
About a2z
a2z, Inc. provides powerful web-based event management tools that grow your show by increasing and accelerating booth sales, helping boost revenue, and enhancing engagement and value for everyone. a2z, Inc. powers more than 850 leading events every year. Our clients benefit from increased connectivity with their audience via an improved website for their attendees and exhibitors and both web-based and native mobile app solutions. a2z offers three platforms as one integrated solution: Expo & Conference Management, Networking & Lead Management, and ChirpE Mobile- which includes our web-based and native mobile apps for smart phone and tablet device.
About Building Owners and Managers Association
The Building Owners and Managers Association consists of 91 US associations and 17 international affiliates and represents the owners and managers of all commercial property types. It is their mission to advance a vibrant commercial real estate industry through advocacy, influence, and knowledge.