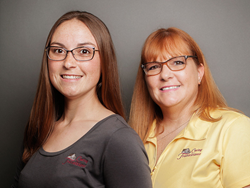 Mechanicsburg, PA (PRWEB) May 27, 2015
Carolyn Doerr and her daughter Corinne Skidmore are looking forward to helping seniors and their families relocate and downsize through Doerr's new business, Caring Transitions of Mechanicsburg.
Caring Transitions is America's largest resource specializing in managing relocations for seniors and busy families as well as downsizing and estate liquidations. In addition to the organizing, packing and move oversight, Caring Transitions can handle on-site and online estate sales, liquidations, and preparing homes for market. Caring Transitions of Mechanicsburg serves the Pennsylvania counties of Cumberland, Perry, Dauphin, York and Adams as well as the surrounding communities.
Whether your situation is planned or unexpected, Caring Transitions' services are perfect for busy families, seniors moving in with family or into a safer living situation, or people clearing out the home of a loved one who has passed.
"The services offered by Caring Transitions are a real need in this area and across the country. Even those who really want to move into a more comfortable living situation look around their house and just don't know where to start. It can be emotional and overwhelming, but Caring Transitions can turn the move into a positive experience," Doerr said.
"I went through my own personal downsizing and estate liquidation when my husband died unexpectedly three years ago. I was lucky enough to have family nearby to help, but that's not always the case. We will be there when you need someone to turn to," she added.
Doerr is a Certified Relocation and Transition Specialist, a designation bestowed by an independent organization that evaluates providers of senior relocation services. Caring Transitions of Mechanicsburg is bonded and insured.
Doerr grew up in Toms River, New Jersey, before relocating to Pennsylvania in the early 1990s. She earned her BA in journalism from Kent State University and is working on her MBA in marketing management from Benedictine University. She worked in corporate communications and marketing for the last 20 years, the last eight of which were in the senior services and living industries.
"Discouraged by the instability of the changing market, I began considering my own business. As I looked at various franchise opportunities, I came across Caring Transitions. This business combined my love of organization, skills and experience in moving and relocation, and my passion for working in senior services. It's also a great opportunity to work side by side with my daughter in a field that's equally exciting for her," Doerr said.
Along with working and spending time with her two grandchildren, Doerr enjoys volunteering as a manager of Seaside Home, a non-profit, Christian retreat for underprivileged women and children in Cape May, NJ. She's also excited about becoming more involved with local Mechanicsburg organizations as a small business owner once the company is up and running.
Corinne, Doerr's only daughter, is married to Robert Skidmore and the couple has two children. Corinne serves in the National Guard and will be an integral part of launching and running Caring Transitions of Mechanicsburg.
"I'm very optimistic about the positive impact that Caring Transitions can have on our local community. We're looking forward to helping others make smooth transitions through these difficult moments in their lives," Corinne said.
Caring Transitions is a trusted and highly respected national company leading the way in senior relocation, household liquidations and estate sale management in more than 150 locations across the United States. Caring Transitions is part of the International Franchise Association, the Small Business Association's Franchise Registry, VetFran and Minority Fran.
For additional information about Caring Transitions and to learn how the company can help you and your family, call (717)609-1079, email CDoerr(at)CaringTransitions(dot)net or visit http://www.CaringTransitionsMechPA.com.
About Caring Transitions
Caring Transitions, founded in 2006, is the first national franchising concept specializing in senior relocation and transition services. With 150 locations throughout the United States all owned and operated by Certified Relocation and Transition Specialists, Caring Transitions provides clients with supportive moves, auctions, rightsizing and transitions. This includes expert advice plus a well-executed transition plan beginning with the initial sorting of personal belongings through packing, shipping and selling of items to the final clearing and cleaning of the property. For more information, visit http://www.caringtransitions.com or visit us on Facebook or Twitter.
Caring Transitions is part of Strategic Franchising Systems. It is a member of the International Franchise Association, the Small Business Association's Franchise Registry, VetFran and Minority Fran.