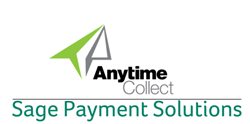 We now have a holistic solution connecting the financials in the Sage ERP system with customer payments in Sage Payment Solutions, making it easier for Sage partners and customers to leverage the technology provided in Sage's application portfolio
Chardon, Ohio (PRWEB) May 28, 2015
Anytime Collect (http://www.anytimecollect.com), the popular credit and collections software by e2b teknologies, is now integrated with Sage Payment Solutions for online customer payments via automated clearing house (ACH) bank transactions or secure, PCI-compliant credit card payments.
"We've been a Sage development partner for more than a decade, providing integration of Anytime Collect with all of Sage's major ERP business applications," said e2b teknologies President Lynne Henslee. "I couldn't be happier that we've extended this relationship to include integration to the Sage Payment Solutions which is used by a large and growing number of Sage ERP customers to manage bank and credit card payments."
The Sage Payment Solutions integration is embedded in our Anytime Collect Online Bill Pay module enabling a business to send customers a secure hyperlink to access their account online where they can review statements and invoices and process payments via the Sage Payment Solutions secure, PCI-compliant payment page. The integration also enables internal credit and collections professionals to take verbal payments over the phone which are processed in the Sage Payment Solution application.
"Sage is a very strategic partner for us," Henslee said. "We now have a holistic solution connecting the financials in the Sage ERP system with customer payments in Sage Payment Solutions, making it easier for Sage partners and customers to leverage the technology provided in Sage's application portfolio to shorten the order to cash cycle time and get paid faster and easier than ever before."
e2b teknologies is a two-time winner of Sage's Development Partner of the Year awards in 2011 and again in 2013 for the company's ability to deliver solutions that best fit customer needs and e2b teknologies' high level of customer and satisfaction.
About Anytime Collect
Anytime Collect (http://www.anytimecollect.com) is a leading cloud-based accounts receivables management system designed specifically for businesses selling to other businesses on credit terms as opposed to other software designed for credit agencies or business to consumer credit and collections.