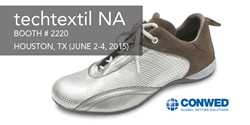 (PRWEB) May 27, 2015
Conwed, the leading plastic netting manufacturer in the world, will display its netting portfolio at Techtextil North America 2015, in Houston, Texas (Booth# 2220 - June 2-4, 2015). Organized annually by Messe Frankfurt, Techtextil North America represents all vertical aspects of the technical textile industry from research and development, through raw materials and production processes, to conversion, further treatment and recycling. With over 300 exhibitors and 5,000 visitors, it is a central marketing and sourcing platform for users and manufacturers of technical textiles and nonwovens.
Conwed netting is usually used to reinforce, support and bond different materials and substrates. When used in composite form, netting can add superior strength without significantly increasing the weight of the entire composite. Its lightweight features help manufacturers create composites with film, paper, foil, foam, bubble wrap, nonwoven and other fabrics. "Our netting portfolio is used in automotive, filtration, medical, hygiene and disposable consumer products. We help our customers achieve specific performance targets by customizing every netting design we create for them", said Ivan Soltero, Strategic Marketing Manager at Conwed.
Manufacturers, OEMs and converters can create composites through extrusion coating, extrusion lamination, thermal lamination, ultrasonic welding, wet and dry adhesive lamination and diverse nonwoven processes. In many cases, incorporating netting helps reduce cost, weight, height, thickness and overall size of products and save energy, material, and production process time.
Among the products highlighted at this exhibition, Conwed will display co-extrusion netting. Co-extrusion is a multi-layer extruded netting than can be subsequently oriented where different polymers can form different layers on the same netting configuration. It is a square netting construction and Conwed has the ability to build netting with A/B, A/B/A, and A/B/C layer combinations. "Our netting can have adhesive layers to facilitate thermal lamination with different substrates. This feature can substitute the adhesive application steps from other types of lamination" said Soltero.
Another proprietary netting technology shown at Techtextil North America will be Rebound® elastomeric netting. Rebound was conceived as an ideal alternative to spandex, films and stretchable nonwovens in composites needing a stretch engine material. "Rebound is probably one of our most advanced netting technologies. It is used in disposable consumer products providing elasticity features for waistbands and side panels. We are also able to make netting with stretchable features in one or both directions by using our bi-component manufacturing process" said Soltero. Conwed manufactures a wide range of design configurations with different hysteresis and recovery performance targets that provide manufacturers with multiple alternatives for their textile and apparel applications.
For a complete guide of how plastic netting is made and how it can be incorporated with other materials, visit the Plastic Netting 101 section at http://www.conwedplastics.com
About CONWED
Conwed is the leading plastic netting manufacturer in the world. Conwed manufactures extruded, oriented and knitted netting with unique customization capabilities. Headquartered in Minneapolis, Minnesota, Conwed has five manufacturing locations on two continents and a global distribution network.