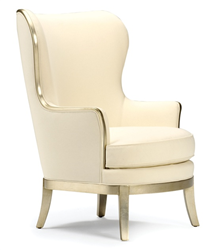 "Currey & Company's 'vision' is to create and fulfill the desire for distinctive home furnishings." -Currey & Company
(PRWEB) June 02, 2015
Currey & Company, a company known for its eloquent, classically inspired and modern products for the interior, consistently impresses consumers and retailers with its detail and quality craftsmanship evident in all of its products.
The company had an amazing selection of new introductions at the Spring 2015 High Point Market. They brought a vast array of new looks to the market that are sure to inspire room ideas for interior designers and individual consumers interested in accomplishing a variety of looks. From refined to rustic, Currey & Company did not disappoint this spring.
The product lineup that Currey & Company chose to introduce at HPMKT this spring is diverse in that each product has its own look and style.
An evident favorite and bestseller, the Veronica Chair features lustrous curves and soft edges. Currey & Company brought modern interpretation to this classically-inspired design in a perfect marriage of old and new. This versatile piece comes in multiple fabric options and colors that would suit everything from a living room to a masculine office.
Currey & Company has been doing significant chandelier and sconce business since they got into the industry in the early 1990's. So, it is always interesting to see what they bring to market. This spring, Currey & Company introduced multiple lighting solutions with various looks and inspirations.
Keeping with the trendy vintage-inspired curves of the popular Veronica Chair, Currey & Company's Agnes Orb chandelier is a gorgeous piece that will complete and complement a range of looks and styles this spring.
While rounded, curved lines were a popular trend in interior design at this spring's High Point Market, Currey & Company also brought many modern pieces with straighter, harder edges to the showroom floor.
The Kelmarsh Chair by Currey & Company has a more modern feel with its clean lines and straight edges. This chair can be upholstered in numerous fabrics and its frame can be painted in a variety of colors, making this item one of many highly-customizable items introduced at the market.
Through their newly introduced product line-up, Currey & Company brought versatility and customizability to High Point Market Spring 2015 that designers and individual customers are sure to utilize in a wide range of rooms with large style diversity.
Peace, Love & Decorating is an authorized Currey and Company retailer located at 3129 Main Street, Duluth, Ga., just 30 minutes north of Atlanta, offering Home Decor, Women's Clothing, Jewelry & Gifts. Browse items in-store or online at https://www.peaceloveanddecorating.com.