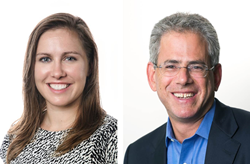 Caroline and John are the 'Dynamic Duo' of our emerging performance-driven social sector.
BOSTON and SAN FRANCISCO (PRWEB) June 02, 2015
Third Sector Capital Partners, Inc. (Third Sector) has named Caroline Whistler and John Grossman Co-Presidents. Ms. Whistler heads Third Sector's San Francisco office and co-founded the nonprofit in 2011 along with CEO George Overholser. Mr. Grossman leads the Boston office and serves as General Counsel for the organization. Both individuals are recognized authorities in the emerging Pay for Success field, and are sought by governments, funders, and social service providers for their respective areas of expertise. Together, they will oversee all aspects of the 31-person organization.
According to CEO and Co-Founder George Overholser: "Caroline and John are the 'Dynamic Duo' of our emerging performance-driven social sector. With their diverse yet complementary backgrounds in law, government, nonprofit sustainability, and social finance, they have played central roles in launching this nation's most recognized Pay for Success projects, and are today actively leading the development of Pay for Success in cities, counties and states across the U.S. Our rapidly expanding Third Sector team will benefit tremendously from the leadership and knowledge of these two trailblazers."
Ms. Whistler joined Third Sector after completing a Fulbright Fellowship in Brazil researching nonprofit sustainability with Ashoka and Fundação Getulio Vargas University. Previously she worked at Nonprofit Finance Fund (NFF) Capital Partners, a leader in applying growth metrics and accountability to equity-like financing for high performing nonprofits. While at NFF, she structured growth capital campaigns, conducted economic feasibility analyses and designed scenario planning tools to help raise more than $300 million in capital for nonprofits including Health Leads and Year Up.
Prior to NFF, Ms. Whistler conducted nonprofit analysis, market research and a study on sustainability for a foundation at Community Wealth Ventures, a social enterprise consulting firm. Caroline was a Robertson Scholar at Duke University where she graduated Phi Beta Kappa with a B.A. in Political Science and African Studies.
Commenting on her appointment, Ms. Whistler stated: "Interest in Pay for Success is growing at a staggering rate in this country. Just four years ago, Third Sector was a two-person operation, sharing one small office and a powerful vision of governments, high-performing nonprofits, and private funders uniting to measurably improve people's lives. I am proud to have played an active role in the growth of this field and to now be leading the day-to-day expansion of Third Sector from our West Coast office."
Mr. Grossman joined Third Sector after completing the MIT Sloan Fellows Program in Innovation and Global Leadership. Prior to that, he spent more than fifteen years working for the Commonwealth of Massachusetts, much of it striving to bring performance management to the state. He most recently served as the Undersecretary for Forensic Science and Technology within the Executive Office of Public Safety and Security ("EOPSS"). In that role, he was responsible for providing strategic leadership to the State Crime Lab, the Office of the Chief Medical Examiner, the Criminal Justice Information System, and the Massachusetts 911 Department. Additionally, he supervised the information technology operations of all of the secretariat's eleven agencies.
Prior to joining EOPSS, Mr. Grossman served for 12 years in the Office of the Massachusetts Attorney General, leaving as the Deputy Chief of the Criminal Bureau after leading the prosecution of all types of white collar crime and standing up the nation's first statewide computer crime unit. He is also a member of the Massachusetts Governor's Performance Advisory Council and the Massachusetts Court Management Advisory Board. Mr. Grossman is a summa cum laude graduate of Boston University School of Law and holds a B.A. from the University of Pennsylvania and an M.B.A. from MIT's Sloan School of Management.
According to Mr. Grossman: "As project manager for the nation's largest Pay for Success project here in Massachusetts, I've seen both the promise which PFS offers its stakeholders, as well as the challenges inherent to constructing such complex engagements. I am thrilled to have been named Co-President at Third Sector, where I get to actively champion this work, and promote a culture of values and best-practices to our expanding all-star team."
About Pay for Success
Pay for Success (PFS) is a groundbreaking funding model in which governments, high-performing nonprofits, and private funders collaborate to measurably improve people's lives in areas such as poverty, education, child welfare, recidivism, homelessness, and wellness. At the center of these collaborations, an organization like Third Sector will act as a conductor, facilitator, and advisor to the overall process. This role is often called the Intermediary, Project Manager, or Technical Assistance Advisor. To date, seven PFS projects have been launched in the United States in the fields of juvenile justice, early childhood education, homelessness prevention and recidivism. Hundreds of other potential projects are being explored at this very moment.
About Third Sector Capital Partners, Inc. (http://www.thirdsectorcap.org)
Third Sector is accelerating America's transition to a performance-driven social sector. A 501(c)(3) nonprofit, Third Sector leads governments, high-performing nonprofits, and private funders in building collaborative, evidence-based initiatives that address society's most persistent challenges. As experts in innovative public-private financing strategies, Third Sector is an architect and builder of the nation's most promising Pay for Success projects including the Commonwealth of Massachusetts and Cuyahoga County, Ohio. These projects are rewriting the book on how governments contract social services: funding programs that work while saving taxpayer dollars and measurably improving the lives of people most in need. Based in Boston and San Francisco, Third Sector is a recipient of the Corporation for National and Community Service's Social Innovation Fund.
###