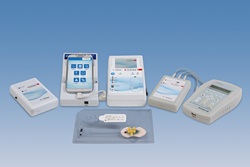 We are eager to partner with the people who can enhance access to this non-narcotic pain treatment solution.
San Francisco, CA (PRWEB) May 28, 2015
Medical device maker DyAnsys Inc. has announced that the company plans to add distributors to sell its pain-relief medical device products in the United States.
The company, which recently released the ANSiStimTM System to treat long-term chronic pain, is seeking qualified local distributors who are currently reselling medical devices to a broad customer base of medical practitioners in the pain treatment field in one to three states. The system can be used in clinics, hospitals, pain centers and surgical centers.
"We are eager to partner with the people who can work with us to enhance access to this non-narcotic pain treatment solution," said DyAnsys Chief Executive Srini Nageshwar. "This is an effective alternative for patients who have been suffering from long-term chronic pain."
The treatment system consists for four components:
ANSiStimTM, a small device worn behind the ear to administer continuous pulses of low-level electrical current to nerve endings in the ear. The ANSiStim was recently cleared by the Food & Drug Administration for sale in the US.
ANSiScope to monitor patients and keep an electronic medical record. The handheld device features a built-in display and its functions can be viewed on an external monitor.
ANSiStim Locator to determine where the electrodes should be placed.
ANSiStim Tester to confirm that ANSiStim is working correctly before application.
The system is appealing to physicians and patients because it is not only effective but also easy to use. The placement of the ANSiStim takes about ten minutes. Patients continually wear the light, unobtrusive device for four days while they go about their regular activities. A new ANSiStim is applied every week by the health care provider. Total treatment typically takes ten to twelve weeks.
ANSiStim is the next generation of the company's effective Point Stimulation Therapy System, which has been in clinical use for several years. In addition to being used to treat chronic pain, ANSiStim can be used for post-operative pain therapy.
For more information about the company's products or becoming a distributor, call the company's toll free number 1-888-950-4321 or send an email to customer.contact(at)dyansys(dot)com.
DyAnsys Inc. is a global company headquartered in the Silicon Valley (California, USA) with subsidiaries in Switzerland and India. DyAnsys provides advanced medical diagnostic and monitoring systems to clinicians in individual practices and hospitals.
.
Connect with Srini Nageshwar on Linkedin.