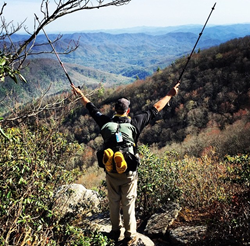 As Phil says he will be walking the Appalachian Trail to put a face on recovery and "to carry the recovery torch through the wilderness."
Hartford, CT (PRWEB) May 29, 2015
On March 19, 2015, CCAR's Executive Director Phil Valentine took his first step on the Appalachian Trail. Going northbound from Georgia to Maine, he now is more than 60 days and 700 miles into the hike. There is a striking reason why he would take roughly six months away from his daily routine and family. On March 19, 2010, Phil was diagnosed with Stage 4 oropharyngeal cancer – cancer of the tongue. In the months that followed he endured two inpatient chemo stays, a feeding tube that led to two additional hospital stays, 39 radiation treatments with more chemotherapy that left him emaciated, hairless and shaken. But Phil did heal and he is thriving. He emerged with an even stronger conviction to tell the news about recovery: from both alcohol and drug addiction and from cancer. Recovery is not only a hope, but an expectation. If someone makes the commitment to heal – body, mind, spirit – and opens to receive the help and love that is available, recovery happens. Phil blogs about the ways his faith, and the love from his wife and family, co-workers, the Facebook community "Valentine Battalion", the CCAR Board, his recovery program and many prayers got him through. Recovery is happening in his life, in so many ways!
Sometime during the healing, Phil felt called to do something extraordinary, something that seemed downright outlandish...hike the entire 2175 miles of the AT. At first, he tried to ignore the inner call, but it kept growing louder until he accepted it. It took a while till he dove into it and ultimately embraced it. Phil truly felt that he had needed to carry the message of how his life has been transformed through his recovery and to promote hope for others who need that. As a long-time recovery advocate, Phil understands the need to make recovery visible in the public eye to tell the other side of the addiction story. By promoting the hope and reality of recovery, the lives of more people will be saved from the ravages of addiction. He has been a leader with CCAR for more than 16 years, an organization that works to change the dialogue about addiction and recovery.
Fast-forward five years... after much preparation and with the full support of his family and the community that surrounds him, Phil set off on this once- in- a-lifetime adventure. Phil now has been on the trail for over 2 months; he has scheduled stops at various Recovery Communities where he shares his story of overcoming addiction, cancer and his call to hike the entire AT. As Phil says he will be walking the Appalachian Trail to put a face on recovery and "to carry the recovery torch through the wilderness."
If you are interested in learning more about Phil's hike or would like to become a sponsor, please visit http://www.AT4Recovery.org. For those along the Appalachian Trail who are interested in having Phil speak at your organization, please email chiara@ccar.us.