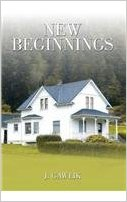 No matter how many circumstances or people come in to our lives to knock us down, tell us we are less than we are or keep us from our goals, we must stay true to who we are inside, follow that and tend our own fires of optimism
SEATTLE, Wash. (PRWEB) June 01, 2015
After dealing with difficult circumstances, it can be challenging to begin again and take control of the many aspects of life that may have lacked attention – particularly when it comes to love.
"New Beginnings," a new novel from author J. Gawlik, is the story of a 40-something woman, Emma, as she faces the many struggles that accompany her quest to reestablish herself after years of demanding and difficult circumstances.
"She would like to shed the past and start over, but she wonders how to get back in touch with the girl she used to be, while at the same time continuing to grow as a person," Gawlik said.
Partly inspired by Gawlik's personal experiences, "New Beginnings" presents Emma as a shining example for anyone searching for identity and love after spending so much time living for others.
"No matter how many circumstances or people come in to our lives to knock us down, tell us we are less than we are or keep us from our goals, we must stay true to who we are inside, follow that and tend our own fires of optimism," Gawlik said.
For more information, visit http://www.xlibris.com.
New Beginnings
By J. Gawlik
ISBN: 978-1-50354-553-3
Available in softcover, hardcover, e-book
Available on Amazon, Barnes & Noble and Xlibris
About the author
J. Gawlik resides in Yakima, Wash. She teaches language arts to middle school students.
# # #
For review copies or interview requests, contact:
Drew Tharp
317.602.7137
dtharp(at)bohlsengroup(dot)com