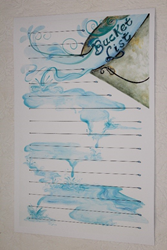 Make a Bucket list. Make it extravagant, make it happen. Add a quotable
Sacramento, PA (PRWEB) May 28, 2015
A bucket list should include dreams, goals, destinations, life wishes and adventures. Each item on the bucket list can be tiny, small, medium, large, and, absolutely impossible events, experiences and tasks that the owner wants to happen in their own lifetime. There is no right or wrong when it comes to making this list. Bucket list ideas might include starting a business, writing poems, publishing a book, seeing the Grand Canyon on horseback, skydiving, visiting Scotland, adopting an orphaned child, donating a million dollars to a charity, learning to play a musical instrument, or mastering a new language, then visiting a country that uses that language. Why not? If it is a life- long dream, KEE Kreations' the "Bucket List" is designed to display it. Watch in amazement as one by one the goals are checked off that list.
KEE Kreations offers over 18 different Interactive Art print designs for a variety of occasions and uses. Each 12"X18" print of an original watercolor painting was created as the foundational artwork, to be personalized. Artwork designed to be written on. Yes, write directly on the print, in the spaces on, or around the art.
Display the print in the glassless, ebony, slide-in frame, by KEE Kreations. This frame will allow continued and easy access to the Interactive Art print. KEE Kreations prints are copyright and trademark protected.
For more information about the "Bucket List" email Karen at Karen@keekreations.com or to view other Interactive Art designs visit KEE Kreations' webpage http://www.keekreations.com